DIY, How-to, Crafts, Scrap, Digi
What an amazing and creative weekend we had – loved celebrating National Scrapbooking Day(weekend) with all of you. Thank you so much for all your sweet comments! You are all so kind We have four winners to announce from this post.
.:| Elle's Studio |:.: NSD Winners + My Week In The Life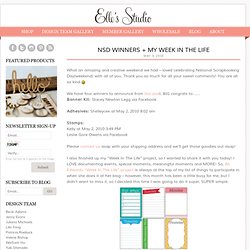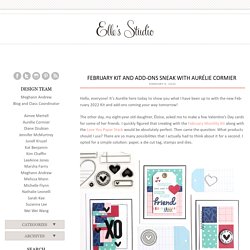 I am happy to introduce you to our January Guest Designer, May Flaum! I have followed and admired May's work for a long time. She is an incredibly talented designer and educator. When she agreed to guest design with us, I was so excited!
.:| Elle's Studio |:.
A Blog by Amy Atlas: DIY Vellum Mobiles - (Current Session: Andr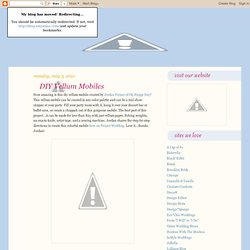 How amazing is this diy vellum mobile created by Jordan Ferney of Oh Happy Day? This vellum mobile can be created in any color palette and can be a real show stopper at your party. Fill your party room with it, hang it over your dessert bar or buffet area, or create a chuppah out of this gorgeous mobile. The best part of this project...it can be made for less than $25 with just vellum paper, fishing weights, an exacto knife, artist tape, and a sewing machine. Jordan shares the step-by-step directions to create this colorful mobile here on Project Wedding. Love it...thanks Jordan!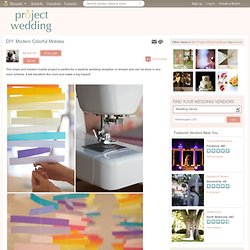 This bright and modern mobile project is perfect for a daytime wedding reception or shower and can be done in any color scheme. It will transform the room and make a big impact! The best part is this whole project can be made on the cheap--for under $25! Let's get started:
Vellum Mobiles - (Current Session: Android Market-2010-05-03)
DIY: Printed Paper Garlands - Project Wedding - (Current Session
Create a vintage library feel with easy DIY garlands evoking a papered past. This gently tattered look can be used for photo booth backgrounds, hanging mobiles, or simple wall and aisle decorations. Materials: Twine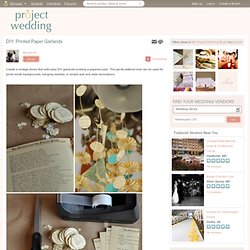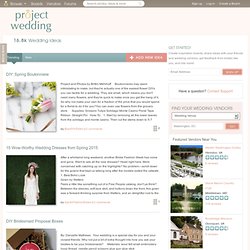 Photo by Melissa Copeland Photography From dress stains or rips to headaches to paper cuts, there are a variety of minor mishaps that can occur on your wedding day. But instead of worrying about them, be prepared! Create a wedding-day emergency kit or ask one of your bridesmaids to do it for you. Even if your wedding day is smooth sailing, you'll be glad you had these essentials on hand:
Blog Archive » Fonts Don't Float - (Current Session: Blogs 2)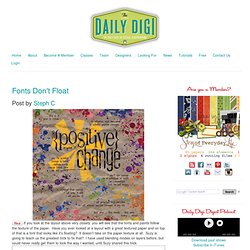 If you look at the layout above very closely, you will see that the fonts and paints follow the texture of the paper. Have you ever looked at a layout with a great textured paper and on top of that is a font that looks like it's floating? It doesn't take on the paper texture at all.
Be Different...Act Normal - (Current Session: Blogs 2)
I feel like my kitchen repertoire is getting pretty boring, so I thought I would dig up a couple of easy chicken recipes to add to the rotation this week. Our Spring schedule is insanely busy, so when I say easy, I mean easy. Like already have the ingredients in the house, cook everything in one pan, and no need to marinate because that would require me to think about dinner at least an hour before I start cooking it.
Marion here, a newer memeber of Teri's ct team. So you seen the sneak peak and want to see the full kit now? Heres what Teri says about the kit When two designer divas get together and create a kit, you just have to say "MamaMia!". Here's to all of us that either are, or want to be, or know some one that is one Haute Mama! We wanted to celebrate women in general, and all aspects of who we are, and the roles we play.
Teri's Thing-O-My-Jigs - (Current Session: Blogs 2)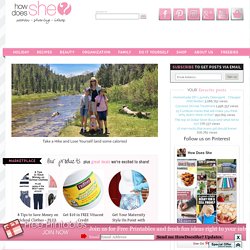 If you were to come over to my home and see my kitchen, most likely this fridge would be the first thing to greet you. Not necessarily anything wrong with it. A typical messy, chaotic fridge. (Ok, so maybe this messy isn't typical?) But... [Read more]
birthday_both.pdf (application/pdf Object) - (Current Session: B
Shabby Princess - (Current Session: Android Market-2010-05-03)
happy february (almost) :o) we have a new desktop for you...and i hope you love it as much as i do! this is one of my favorite color combinations...and i think works perfectly for valentine's! as always, we have it for you in two sizes...1024x768 and 1280x800...so here ya go: CLICK HERE to download the 1024x768 desktop
Weeds and Wildflowers Design » Blog Archive » All Things Seem Po
Eva Kipler Designs » May Desktop! - (Current Session: Android Ma
Pro - How to Make Recent Instructables - (Current Session: Andro
The March 2014 desktop was posted the other day, so if you haven't grabbed it already, go get it here! Put it up on your computer monitor. It will make you happy It is super easy to upload and I have detailed instructions (there are only 3 steps) to show you how to put it up. Give it a try if you haven't before!
Leelou Blogs