DIY, How-to, Crafts, Scrap, Digi
.:| Elle's Studio |:.: NSD Winners + My Week In The Life. What an amazing and creative weekend we had – loved celebrating National Scrapbooking Day(weekend) with all of you.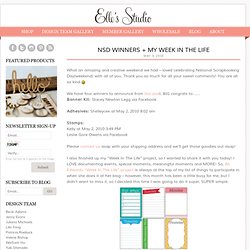 Thank you so much for all your sweet comments! You are all so kind We have four winners to announce from this post. .:| Elle's Studio |:. We are so excited for the full reveal of our April kit today!
April's kit is full of spring, Easter, and tons of tags that would work for everyday layouts, Project Life, mini albums, and more! These kits are limited and once they sale out we will not be restocking! Look for a new kit each month on the 10th at 8:00 am PST, and as a special bonus to celebrate launch day, kits will be on sale for $9.99 for today only, regular price after that will be $11.99. A Blog by Amy Atlas: DIY Vellum Mobiles - (Current Session: Andr.
How amazing is this diy vellum mobile created by Jordan Ferney of Oh Happy Day?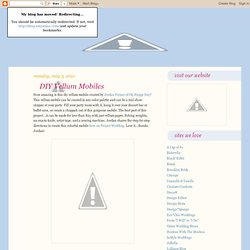 This vellum mobile can be created in any color palette and can be a real show stopper at your party. Fill your party room with it, hang it over your dessert bar or buffet area, or create a chuppah out of this gorgeous mobile. The best part of this project...it can be made for less than $25 with just vellum paper, fishing weights, an exacto knife, artist tape, and a sewing machine. Jordan shares the step-by-step directions to create this colorful mobile here on Project Wedding. Love it...thanks Jordan! Modern Colorful Mobiles - Project Wedding - (Current Sessio.
This bright and modern mobile project is perfect for a daytime wedding reception or shower and can be done in any color scheme.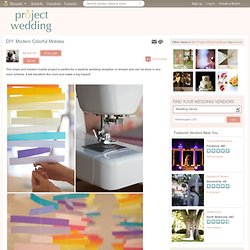 It will transform the room and make a big impact! The best part is this whole project can be made on the cheap--for under $25! Let's get started: Vellum Mobiles - (Current Session: Android Market-2010-05-03) Printed Paper Garlands - Project Wedding - (Current Session. Create a vintage library feel with easy DIY garlands evoking a papered past.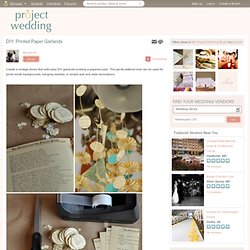 This gently tattered look can be used for photo booth backgrounds, hanging mobiles, or simple wall and aisle decorations. Materials: Twine. Making a Lemon Leaf Garland - Making a Lemon Leaf Garland - Proj. After a whirlwind long weekend, another Bridal Fashion Week has come and gone.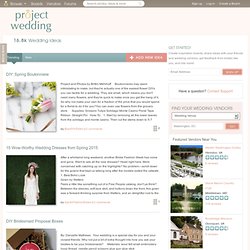 Want to see all the new dresses? Head right here. More concerned with catching up on the highlights? No problem—scroll down for the gowns that kept us talking long after the models exited the catwalk. Blog Archive » Fonts Don't Float - (Current Session: Blogs 2) If you look at the layout above very closely, you will see that the fonts and paints follow the texture of the paper.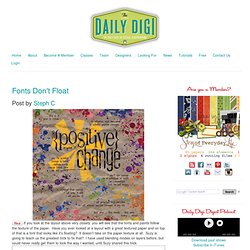 Have you ever looked at a layout with a great textured paper and on top of that is a font that looks like it's floating? It doesn't take on the paper texture at all. Be Different...Act Normal - (Current Session: Blogs 2) Teri's Thing-O-My-Jigs - (Current Session: Blogs 2) How Does She... - (Current Session: Blogs 2) Birthday_both.pdf (application/pdf Object) - (Current Session: B. Shabby Princess - (Current Session: Android Market-2010-05-03) Happy february (almost) :o) we have a new desktop for you...and i hope you love it as much as i do!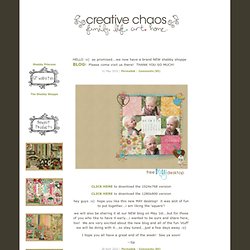 This is one of my favorite color combinations...and i think works perfectly for valentine's! As always, we have it for you in two sizes...1024x768 and 1280x800...so here ya go: CLICK HERE to download the 1024x768 desktop. Weeds and Wildflowers Design » Blog Archive » All Things Seem Po. Eva Kipler Designs » May Desktop! - (Current Session: Android Ma. Pro - How to Make Recent Instructables - (Current Session: Andro. Leelou Blogs.
---