Искусство рисовать
Get flash to fully experience Pearltrees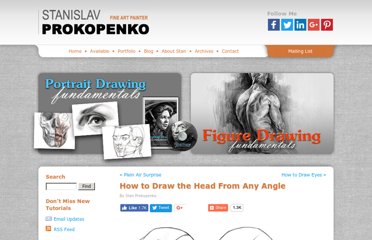 The Basic Forms To draw the head from any angle you must first understand its basic structure. Look past all the distracting details and visualize the underlying forms. This ability to simplify can be applied to the features of the face, but when starting the drawing you could look even further. Ignore even the features and simplify to the most basic form of the head. I use a method taught by Andrew Loomis in his book, "Drawing the Head & Hands".
Update 09-26-2012 – Above is a video version of this tutorial. For more video tutorials visit Proko.com and subscribe to the newsletter In this tutorial I will go over the structure of the nose and give detailed information about the bridge , ball , and nostrils of the nose. At the end, I will show a step by step of a nose drawing. The Major Planes When drawing the nose, I'll usually start by indicating the 4 major planes – top, 2 sides, and bottom.
For a video version of this tutorial visit www.proko.com/how-to-draw-eyes-structure This tutorial is a continuation of How to Draw the Head from Any Angle . I will go over the structure of the eye and detailed information on drawing the brow ridge , eyeball , eyelids , eyelashes , iris , cornea , and pupil . The Basic Forms The Eyeball The part of the eyeball that is visible (technical term is Sclera ) is commonly called the 'white of the eye'.
For a video version of this tutorial visit www.proko.com/how-to-draw-lips-anatomy-and-structure This tutorial is a continuation of How to Draw the Head from Any Angle . I will cover the basic forms of the mouth, some anatomical information, and the key information about the minor planes. At the end, I will show a step by step drawing of the lips. Basic Forms