Hollandia
The Imaginative Conservative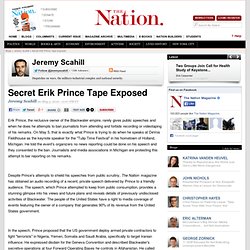 Secret Erik Prince Tape Exposed
Share Erik Prince, the reclusive owner of the Blackwater empire, rarely gives public speeches and when he does he attempts to ban journalists from attending and forbids recording or videotaping of his remarks. On May 5, that is exactly what Prince is trying to do when he speaks at DeVos Fieldhouse as the keynote speaker for the "Tulip Time Festival" in his hometown of Holland, Michigan. The Colombians had entered the United Arab Emirates posing as construction workers. In fact, they were soldiers for a secret American-led mercenary army being built by Erik Prince, the billionaire founder of , with $529 million from the oil-soaked sheikdom.
Blackwater Founder Forms Secret Army for Arab State
Rule number one for all security companies doing business in the Middle East: don't publicly embrace Erik Prince. A company building a battalion of mercs for the United Arab Emirates is sticking to that code, even though a host of ex-employees have fingered the infamous Blackwater founder as a driving force behind it. Prince is "not an officer, director, shareholder, or even an employee" of Reflex Responses, swears its president, Michael Roumi. Reflex Responses, also known as R2, has a $529 million contract to provide 800 mercenaries to keep the UAE safe from internal unrest or Iranian terrorism.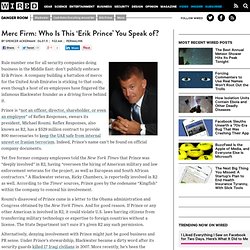 Merc Firm: Who Is This 'Erik Prince' You Speak of? | Danger Room
January 2010: Adam Ciralsky on Blackwater | Politics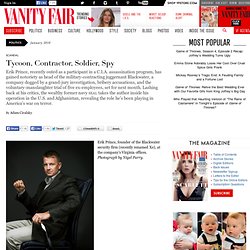 Stepping off the plane at Kabul's international airport, Prince is treated as if he, too, were Al Jazeera–worthy.
Media blackout at Blackwater founder Erik Prince's Tulip Time talk in Holland
Dispensationalism is an evangelical, futurist, Biblical interpretation that understands God to have related to human beings in different ways under different Biblical covenants in a series of "dispensations," or periods in history.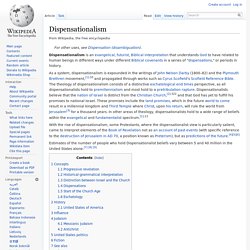 Dispensationalism