Reading
IdiomSite.com - Find out the meanings of common sayings. 15 Oxymorons&. An oxymoron is a combination of words that contradict each other.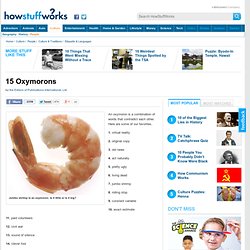 Here are some of our favorites. 1. virtual reality 2. original copy 3. old news. Shakespeare. Harry Potter - Chapter by Chapter & The Harry Potter Companion. The Moral Underground: How Ordinary Americans Subvert an Unfair Economy by... All around you are everyday heroes who refuse to be complicit in the economic mistreatment of other people. posted Mar 18, 2011 "Work is a core class intersection in American life.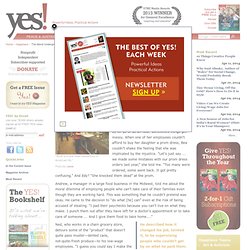 " Bea, a manager at a big-box chain store in Maine, likes to keep a professional atmosphere in the store. But with a staff struggling to get by on $6 to $8 an hour, sometimes things get messy. When one of her employees couldn't afford to buy her daughter a prom dress, Bea couldn't shake the feeling that she was implicated by the injustice. Enjoy England - Storybook England - Home. Complete Library of Children's Books Online: the Rosetta Project. Get (Almost) Any Book For Free: 100+ (Kosher) Sites Offering Great... By Tiffany Davis Reading a book is fun, but when you forget it at home, are bored at work, looking to get ahead on your reading for your online bachelor degree class, or are just curious to get a sneak peek at whatever you ordered from Amazon, online book sites can be handy too.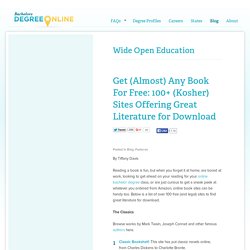 Below is a list of over 100 free (and legal) sites to find great literature for download. Judgmental Bookseller Ostrich. The Raven by Edgar Allan Poe Illustrated by Gustave Dor. Once upon a midnight dreary, while I pondered, weak and weary, Over many a quaint and curious volume of forgotten lore, While I nodded, nearly napping, suddenly there came a tapping, As of some one gently rapping, rapping at my chamber door.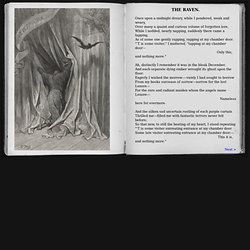 "'T is some visiter," I muttered, "tapping at my chamber door— Only this, and nothing more. " Ah, distinctly I remember it was in the bleak December, And each separate dying ember wrought its ghost upon the floor. Mythology. Grimmtmp from cmu.edu - StumbleUpon. This book contains 209 tales collected by the brothers Grimm.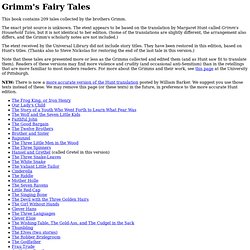 The exact print source is unknown. The etext appears to be based on the translation by Margaret Hunt called Grimm's Household Tales, but it is not identical to her edition. (Some of the translations are slightly different, the arrangement also differs, and the Grimm's scholarly notes are not included.) The etext received by the Universal Library did not include story titles. Roald Dahl - The Official Web Site.
---