Software Development
ntact Us - Scandanavian Spares Specialist
This article lists iPhone apps for the construction, architecture and engineering industries. (Another place to look, of course, is the iPhone App store , which as of this writing is closing in on 100,000 iPhone applications.) iPhone apps for construction: Document and data management
iPhone apps for construction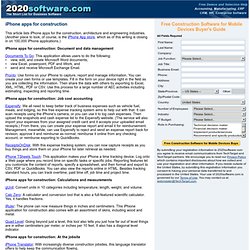 VertrigoServ
Welcome to Microsoft SharedView | Microsoft Connect
What is Fiddler? Fiddler is a Web Debugging Proxy which logs all traffic between your computer and the Internet. Fiddler allows you to inspect traffic, set breakpoints, and "fiddle" with incoming or outgoing data. Fiddler includes a powerful event-based scripting subsystem, and can be extended using any .NET language. Fiddler is freeware and can debug traffic from virtually any application that supports a proxy, including Internet Explorer, Google Chrome, Apple Safari, Mozilla Firefox, Opera, and thousands more.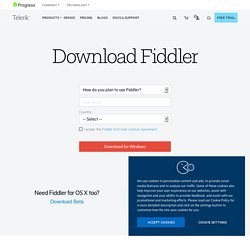 Kaxaml
MSBuildShellExtension
By now you've probably heard at least something about animation in CSS3 using keyframe-based syntax. The CSS3 animations module in the specification has been around for a couple of years now, and it has the potential to become a big part of Web design. Using CSS3 keyframe animations, developers can create smooth, maintainable animations that perform relatively well and that don't require reams of scripting. It's just another way that CSS3 is helping to solve a real-world problem in an elegant manner. If you haven't yet started learning the syntax for CSS3 animations, here's your chance to prepare for when this part of the CSS3 spec moves past the working draft stage.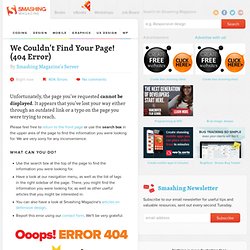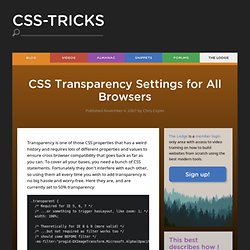 Published by Chris Coyier Transparency is one of those CSS properties that has a weird history and requires lots of different properties and values to ensure cross browser compatibility that goes back as far as you can. To cover all your bases, you need a bunch of CSS statements.
CSS3 Keyframe Animation Demo
Makes all .NET code readable .NET Reflector is an extremely fast debugging and decompilation tool that lets you look inside code, even when you don't have the source. Track your data flow through third party libraries and frameworks like ASP.NET, Silverlight, and Enterprise library. .NET Reflector lets you debug third party code in visual studio as if it's your own.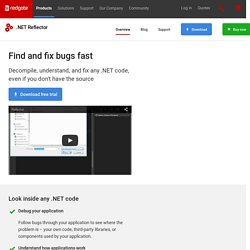 .NET Reflector, class browser, analyzer and decompiler for .NET