Régulateurs
Centre on Regulation in Europe | CERRE
IRG seeks for its Brussels-based Secretariat an Executive Officer Overview: The Independent Regulators' Group ASBL (IRG) is currently recruiting an experienced Executive Officer to support the development of the organization. The Executive Officer will support the Head of Office and the activities of the IRG Secretariat in Brussels.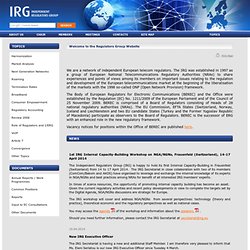 The Independent Regulators Group - IRG
Instances de Régulation dans le monde
RIRM
REFRAM | Réseau francophone des régulateurs des médias
BEREC - Body of European Regulators for Electronic Communication
The European Regulators Group for electronic communications networks and services was set up by the Commission to provide a suitable mechanism for encouraging cooperation and coordination between national regulatory authorities and the Commission, in order to promote the development of the internal market for electronic communications networks and services. To build on this experience, the ERG will now be replaced by the Body of European Regulators for Electronic Communications (BEREC). BEREC and its support Office were created within the recently approved reform of the EU Telecom rules to improve the consistency of implementation of the EU regulatory framework. The first meetings of the Board of Regulators of BEREC and the Management Committee of the Office were held in Brussels on 28 January 2010. If you wish to subscribe to e-mail news, send an e-mail to berec@berec.europa.eu simply stating that you want to be put on the news sendlist.
EPRA - european platform of regulatory authorities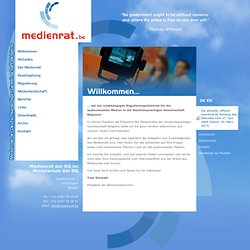 ... bei der unabhängigen Regulierungsbehörde für die audiovisuellen Medien in der Deutschsprachigen Gemeinschaft Belgiens! In meiner Funktion als Präsident des Medienrates der Deutschsprachigen Gemeinschaft Belgiens heiße ich Sie ganz herzlich willkommen auf unseren neuen Internetseiten. Wir werden oft gefragt, was eigentlich die Aufgaben und Zuständigkeiten des Medienrats sind. Hier finden Sie alle Antworten auf Ihre Fragen sowie viele interessante Themen rund um die audiovisuellen Medien.
Medienrat der Deutschsprachigen Gemeinschaft Belgiens
Vlaamse Regulator voor de Media
De Vlaamse Regulator voor de Media is de onafhankelijke toezichthouder voor de Vlaamse audiovisuele media. In het belang van Vlaamse kijkers en luisteraars ziet hij er op toe dat de mediaregelgeving beschreven in het mediadecreet, in Vlaanderen nageleefd wordt. De VRM komt tussen bij eventuele geschillen en behandelt klachten over en meldingen van mogelijke inbreuken op de regelgeving. (lees meer)