WebBuilding
DesignFloat - Web Design News & Tips. Paint.NET - Free Software for Digital Photo Editing. High Resolution Stock Photography: Download Free Stock Photos an. Web Templates, Flash Templates, Website Templates Design - Templ. Redirect Scripts. Ten New Things to Consider When Building Apps Today It used to be that the big decisions centered on whether to do a web application or a desktop application.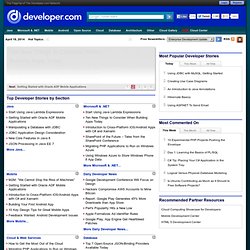 Today the decisions have gotten crazy. Not only do you have to consider web, desktop, or mobile, you are still left with a variety of devices and form factors your application should support. Here are ten different things that you should consider when building modern applications today. FavIcon from Pics -- how to create a favicon.ico for your websit. Writing for the Web.
October 1, 1997 Users don't read Web pages, they scan.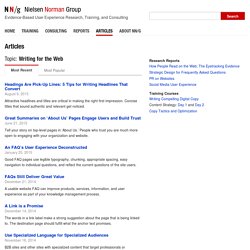 Highlighting and concise writing improved measured usability 47-58%. Marketese imposed a cognitive burden on users and was disliked. Image * After - currently 10725 free textures and images availab. Gt;Page Layout. About the CSS Layout Generator The CSS Layout Generator was first released by Tony Aslett in October 2003, since then over 871,000 layouts have been generated.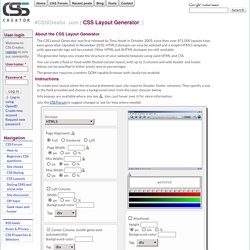 Updated in November 2010, HTML5 doctype can now be selected and a simple HTML5 template with appropriate tags will be created. Other HTML and XHTML doctypes are still available. The generator helps you create the structure of your website template using valid HTML and CSS. You can create a fluid or fixed width floated column layout, with up to 3 columns and with header and footer.
---