Medieval
Knighthood, Chivalry & Tournaments Resource Library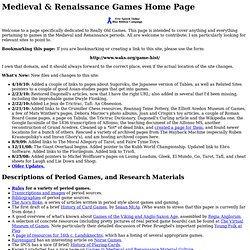 Welcome to a page specifically dedicated to Really Old Games. This page is intended to cover anything and everything pertaining to games in the Medieval and Renaissance periods. All are welcome to contribute; I am particularly looking for relevant sites to point to. Bookmarking this page: If you are bookmarking or creating a link to this site, please use the form:
Medieval & Renaissance Games
Eva's costume page
Hi and welcome to my costuming page!My closet and personal space in the international community of historical costuming fanatics.While this page mostly deals with clothing from the period covered by the SCA there are also some other historical periods represented, such as the 18th and 19th centuries. I have also recently become very interested in in 20th century fashion to use for everyday wear; especially the 1940s and 1950s. The 20th century has thus got it's on gallery -small, but growing; you find it below. I also have a blog which mainly deals with 1940s and 50s fashion and clothing.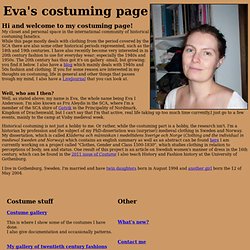 Castle Learning Center
THOROUGHLY MODERN MUSIC, even though the newest is three centuries old IN BREMEN AS IN BOSTON, Karina Gauvin is a powerful and poignant Ariadne. Mystic or migraine sufferer? That's one question history can't answer regarding Hildegard von Bingen (1098-1179), German abbess, visionary, theologian, composer, artist, and adviser to the great minds and personages of her day. Another is whether she herself composed all the music that's appearing on a growing body of CDs or whether there was a convent-workshop aspect to the project.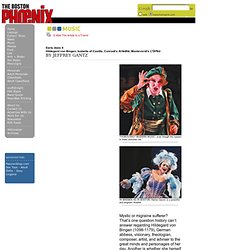 Music | Early does it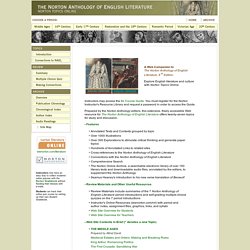 Instructors may access the 8e Course Guide. You must register for the Norton Instructor's Resource Library and request a password in order to access the Guide. Prepared by the Norton Anthology editors, this extensive, freely accessible Web resource for The Norton Anthology of English Literature offers twenty-seven topics for study and discussion. - Features - Review Materials and Other Useful Resources - Web Site Contents in Brief (* denotes a new Topic)
Dead Can Dance Within - Lisa Gerrard, Brendan Perry, 4AD Records
Caxton's Chaucer - view the original Canterbury Tales
Carnivalesque
Early Modern Notes
Mediaeval Baebes Official Site