Itunes
AllCDCovers | More Than Just CD and DVD Covers Album Art. Audiobook Podcast Collection - Download Free Audiobooks | Open C. MP3Gain. Feature: Download and Listen to Free Music on the Web. SExpand Click to viewHey, I know you.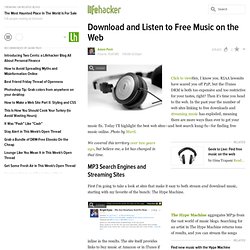 RIAA lawsuits have scared you off P2P, but the iTunes DRM is both too expensive and too restrictive for your tastes, right? Wiwi - Home. Feature: The 20 Best iPod Utilities. Other Music Digital: MP3 Music Downloads. Driven Design - Escape From Reality... - Home. iPod -> Folder. Slacker.com. Stanford on iTunes U. Smithsonian Global Sound. HandBrake. Free iTunes Downloads. UC Berkeley on iTunes U. Hymn -- decrypt iTunes and iPod music / unprotect AAC files (m4p. MOG - Home. Yet another iPod manager - Home. Molly O'Poverty's Guide to (Mostly) Free Music.
Lifehacker. The newest version of Apple's media player, iTunes 4.8, now supports video and syncs calendar and contact information to your iPod.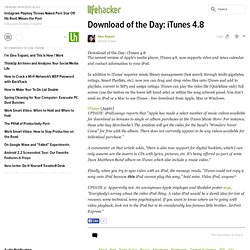 In addition to iTunes' superior music library management (fast search through multi-gigabytes, ratings, Smart Playlists, etc), now you can drag and drop video files onto iTunes and add to playlists, convert to MP3 and assign ratings. iTunes can play the video file (Quicktime only) full screen (use the button on the lower left hand side) or within the song artwork panel. You don't need an iPod or a Mac to use iTunes - free download from Apple, Mac or Windows. UPDATE: iPodLounge reports that "Apple has made a select number of music videos available for download as bonuses to single or album purchases at the iTunes Music Store. For instance, those who buy Morcheeba's The Antidote will get the video for the band's "Wonders Never Cease" for free with the album. There does not currently appear to be any videos available for individual purchase.
"
---