Firefox
PortableApps.com - Portable software for USB drives | Your Digit. 15 Coolest Firefox Tricks Ever - lifehack.org. Everybody's favorite open-source browser, Firefox, is great right out of the box.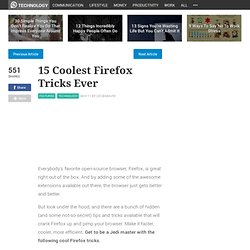 And by adding some of the awesome extensions available out there, the browser just gets better and better. But look under the hood, and there are a bunch of hidden (and some not-so-secret) tips and tricks available that will crank Firefox up and pimp your browser. Make it faster, cooler, more efficient. Gmail Signature Float – Userscripts.org.
Script Summary: Moves your signature in Gmail to the top of the message rather than the bottom New Gmail Breaks This Script - I appreciate all the emails that I've had lately about Gmail breaking this script and I am working on a solution.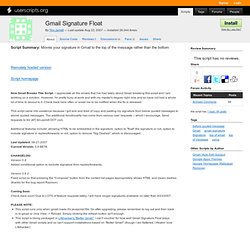 However, I'm pretty busy at work and with my master's degree right now and so have not had a whole lot of time to devout to it. Check back here often or email me to be notified when the fix is released. This script came into existence because I got sick and tired of copy and pasting my signature from below quoted messages to above quoted messages. The additional functionality has come from various user requests -- which I encourage. Yourminis :: main. Gmail Craze: 30 + Tools and Hacks for Gmail » MakeUseOf.com.
All for Gmail: handy Firefox extensions, best Greasemonkey scripts, some desktop tools and lots of useful tips.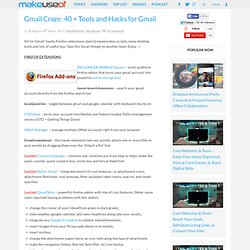 Take this Gmail thingie to another level. Enjoy ;-) GTDGmail - The Firefox Extension that Combines Gmail with Gettin. 61 Resources on Best Firefox Extensions for Power Users - Listib. The page you are looking for might have been removed, had its name changed, or is temporarily unavailable.
Please try the following: Make sure that the Web site address displayed in the address bar of your browser is spelled and formatted correctly. If you reached this page by clicking a link, contact the Web site administrator to alert them that the link is incorrectly formatted. Click the Back button to try another link. Jesse's Bookmarklets Site. Bookmarklets Bookmarklets are free tools to help with repetitive or otherwise impossible tasks in your web browser.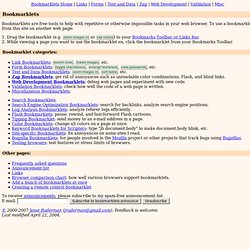 To use a bookmarklet from this site on another web page: Bookmarklet categories: Search Bookmarklets.Search Engine Optimization Bookmarklets: search for backlinks, analyze search engine positions.Log Analysis Bookmarklets: analyze referer logs efficiently.Flash Bookmarklets: pause, rewind, and fast-forward Flash cartoons.Tipping Bookmarklet: send money to an e-mail address in a page.Color Bookmarklets: change all colors on a page at once.Keyword Bookmarklets for Scripters: type "jb document.body" to make document.body blink, etc.Site-specific Bookmarklets: fix annoyances on some sites I read.Bugzilla Bookmarklets: for people involved in the Mozilla project or other projects that track bugs using Bugzillas.Testing browsers: test features or stress limits of browsers.
Bookmarklets for Zapping Annoyances. Bookmarklets for Zapping Annoyances These bookmarklets help you deal with annoying web pages.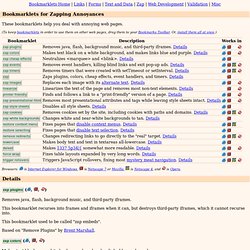 (To keep bookmarklets in order to use them on other web pages, drag them to your Bookmarks Toolbar. Or, install them all at once.) Migrate apps from Internet Explorer to Mozilla. [Customize.org] Download Skins, Themes, Wallpapers and Icons for. Calendar - Wiki - monket.net. From Monket This is an old version The new version of my Monket Calendar can be found at: Monket Google Calendar.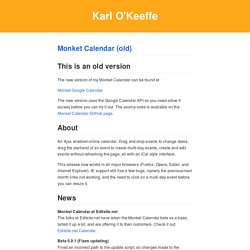 ---