Authors
1000 novels everyone must read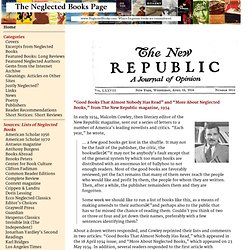 "Good Books That Almost Nobody Has Read" and "More About Neglected Books," from The New Republic magazine, 1934 In early 1934, Malcolm Cowley, then literary editor of the New Republic magazine, sent out a series of letters to a number of America's leading novelists and critics. "Each year," he wrote, … a few good books get lost in the shuffle.
The Neglected Books Page » The New Republic (1934)
Roman History Reading Group: Reading List by Alpha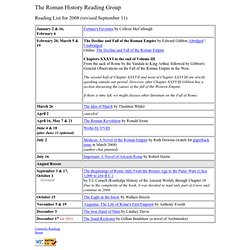 The Roman History Reading Group: Reading List for 2008
The Decline and Fall of the Roman Empire by Edward Gibbon Abridged / Unabridged Online: The Decline and Fall of the Roman Empire Chapters XXXVI to the end of Volume III From the sack of Rome by the Vandals to King Arthur, followed by Gibbon's General Observations on the Fall of the Roman Empire in the West. The second half of Chapter XXXVII and most of Chapter XXXVIII are strictly speaking outside our period.
Some people look good with white wine, some don't. Donald Barthelme is the father of postmodern fiction and funny as all hell. This page represents everything I could find written by him on the web, some select extra commentary, and some stories I scanned myself or others contributed. If you know of any other full-text sources, chunky excerpts or fun anecdotes please email me. Please check the mini-faq before emailing me DB questions.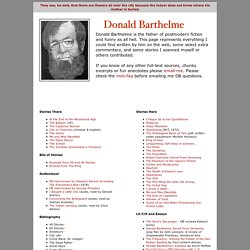 Donald Barthelme's barthelmismo
WritersareReaders.com -- Where Authors Review Books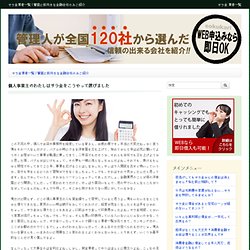 個人事業主のわたしはサラ金をこうやって選びました この不況の中、個人でお店や事務所を経営している皆さん、お疲れ様です。本当に大変だね。かく言う俺もその一人なんだけど、バブルの時に小さな洋食屋を立ち上げて、始めてから5年は必死に働いてようやくお客がついて事業が軌道に乗ってきて、二号店でもだそうか、それとも会社でも立ち上げようかと思った頃、バブルがはじけちゃって、その夢も一緒に泡となっちゃんだよね。それでも、負けるもんかと根性でやってきて20年、事業を広げることはしなかった。やっぱり人間欲を出すと怖いっていうか、自分も年をとるにつれて冒険ができなくなっちゃって。
The imagination is not context-less. The words and conceptual markers a writer puts on the page arise from thoughts and perceptions and interpretations rooted in our experiences and knowledge and assumptions. Writers write what they know, what they think is important, what they think is entertaining, what they are aware or take notice of.
But Enough About Me!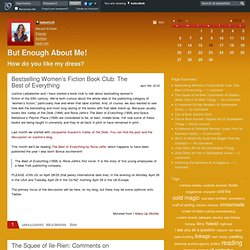 The Bujold Nexus - The Lois McMaster Bujold Homepage
This is the official and authorised Lois McMaster Bujold website. It is devoted to the award winning Science Fiction and Fantasy author Lois McMaster Bujold. Most of Lois's stories are set in the future and concern the Vorkosigan family and the planet of Barrayar. Her recent novels are from two different fantasy worlds. What's New - Recent material on The Nexus Chalion - an index of the pages on this site relating to the Chalion series.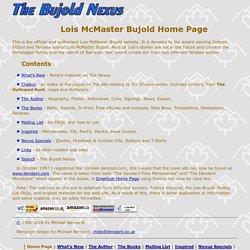 Literature.org - The Online Literature Library
Diana Gabaldon Home Page
The Writing Life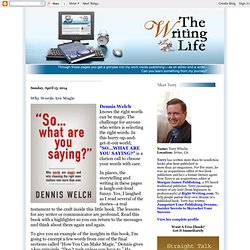 By Elaine Wilkes, PhD Libraries are one of the most overlooked yet lucrative markets to sell your books and eBooks! While traveling, I stopped at a few local libraries. They all purchased my three-year-old book.
Types Of Minority Scholarships Available For Berkeley Students Posted on July 18, 2013 by admin Berkeley is one of the most expensive schools in the country. Fortunately, there are a number of scholarships available that will help offset the cost of tuition. The George A.
Berkeley Daily Planet--Milosz profile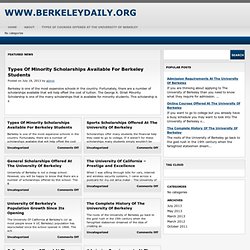 Anne Bishop's Official Website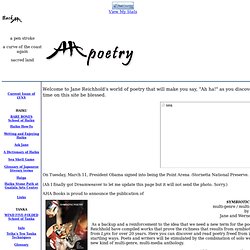 AHA! POETRY
Welcome to Jane Reichhold's world of poetry that will make you say, "Ah ha!" as you discover and explore the many short form genres of poetry. May your time on this site be blessed. AHA Books is proud to announce the publication of SYMBIOTIC POETRY multi-genre / multi-media in action by Jane and Werner Reichhold As a backup and a reinforcement to the idea that we need a new term for the poetry inspired by or based on genres from other cultures, Jane and Werner Reichhold have compiled works that prove the richness that results from symbiotic poetry as already represented through their magazine Mirrors and then from Lynx for over 20 years.
Hatrack River - The Official Web Site of Orson Scott Card
The Internet Book Database of Fiction :: Home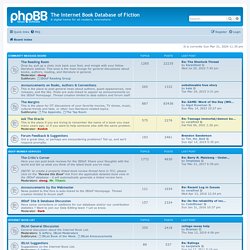 It is currently Wed Jan 15, 2014 5:07 am View unanswered posts • View active topics The Reading Room Drop by, pull up a chair, kick back your feet, and mingle with your fellow literature addicts. This area is the main lounge for general discussions about books, authors, reading, and literature in general. Moderator: clong Subforum: IBDoF Reading Group 1233 Topics 21710 Posts Last post by clong Tue Jan 14, 2014 8:34 pm Announcements on Books, Authors & Conventions This is the place to post general news about authors, guest appearances, new releases, and the like. Posts are auto-linked to appear as announcements on the IBDoF Homepage.
Pocket Full of Words
Fantastic Metropolis
the Complete works of H. P. Lovecraft
The Worlds of Sara Douglass
KURT VONNEGUT -- The Official Website of Kurt Vonnegut
There is more to me than horror clowns and monkeys and alien baby dolls, you guys. Sometimes I go outside by myself. Today I ate a sandwich. Continue reading
Tad Williams
Ursula K. Le Guin's Web Site
Robin Hobb's Home Website
We had a lovely snow this morning in Tacoma. Snow forgives everything. Unranked lawns become smooth fields. Every tree is as decorated as my Christmas tree, with snow garlands and small birds balancing. My murder of crows was out in their winter formal wear, hopping through the snow and demanding peanuts because obviously, they were starving due to snow covering the ground.