Authors
1000 novels everyone must read. The Neglected Books Page » The New Republic (1934) "Good Books That Almost Nobody Has Read" and "More About Neglected Books," from The New Republic magazine, 1934 In early 1934, Malcolm Cowley, then literary editor of the New Republic magazine, sent out a series of letters to a number of America's leading novelists and critics.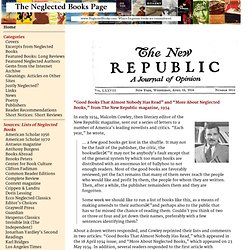 "Each year," he wrote, … a few good books get lost in the shuffle. Roman History Reading Group: Reading List by Alpha. The Roman History Reading Group: Reading List for 2008. The Decline and Fall of the Roman Empire by Edward Gibbon Abridged / Unabridged Online: The Decline and Fall of the Roman Empire Chapters XXXVI to the end of Volume III From the sack of Rome by the Vandals to King Arthur, followed by Gibbon's General Observations on the Fall of the Roman Empire in the West.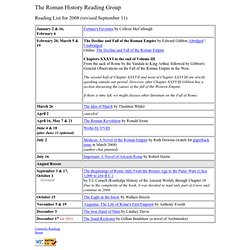 The second half of Chapter XXXVII and most of Chapter XXXVIII are strictly speaking outside our period. Donald Barthelme's barthelmismo. Some people look good with white wine, some don't.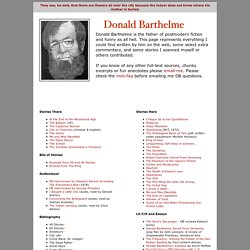 Donald Barthelme is the father of postmodern fiction and funny as all hell. This page represents everything I could find written by him on the web, some select extra commentary, and some stories I scanned myself or others contributed. If you know of any other full-text sources, chunky excerpts or fun anecdotes please email me. Please check the mini-faq before emailing me DB questions. WritersareReaders.com -- Where Authors Review Books. But Enough About Me! The Bujold Nexus - The Lois McMaster Bujold Homepage. Literature.org - The Online Literature Library. Diana Gabaldon Home Page. The Writing Life. Berkeley Daily Planet--Milosz profile. Anne Bishop's Official Website. AHA! POETRY. Hatrack River - The Official Web Site of Orson Scott Card. The Internet Book Database of Fiction :: Home. Pocket Full of Words. Fantastic Metropolis. The Complete works of H. P. Lovecraft.
The Worlds of Sara Douglass. KURT VONNEGUT -- The Official Website of Kurt Vonnegut. Tad Williams. Ursula K. Le Guin's Web Site. Robin Hobb's Home Website.
---