Tech/Apps/Freeware
Abgx360. Keyfinder | Magical Jelly Bean. The Magical Jelly Bean Keyfinder is a freeware utility that retrieves your Product Key (cd key) used to install windows from your registry.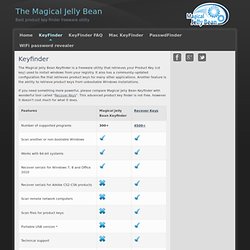 It also has a community-updated configuration file that retrieves product keys for many other applications. Another feature is the ability to retrieve product keys from unbootable Windows installations. If you need something more powerful, please compare Magical Jelly Bean Keyfinder with wonderful tool called "Recover Keys". This advanced product key finder is not free, however it doesn't cost much for what it does. AutoGK Homepage - THE tool for XviD / DivX conversion - Downloads.
DVDFab DVD & Blu-ray Copy, DVD Ripper, Blu-ray Ripper Software. Copy DVD, DVDR, Blu-ray Disc to PSP, or iPad/iPhone/iPod. Copy Blu-ray to BD-R, MKV, or Hard Drive. Alternative software and apps to your PC (Windows, Linux), Mac, iPhone, Android, Web/Online and other platforms. Foobar2000. The Official ImgBurn Website. These files need to be extracted to a 'Languages' folder wherever ImgBurn is installed.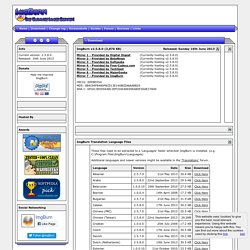 (e.g. C:\Program Files\ImgBurn\Languages) Additional languages and newer versions might be available in the 'Translations' forum. (*) If you want to have a go at translating ImgBurn into your own language, download the base file and follow the translation guide on the forum.You *MUST* also take a look at the pinned topics in the 'Translations' forum for important information regarding updates to the base file. About RocketDock. VLC media player - Open Source Multimedia Framework and Player. OpenOffice.org - The Free and Open Productivity Suite.
---