Sales
TooSaaSy : Thank you customers &
For nearly a century, the buyer's journey was relatively linear. Advertising messages distributed across a few mass media outlets were the primary method of spreading awareness. Purchase consideration generally occurred by reading product brochures and conversing with salespeople, friends and family.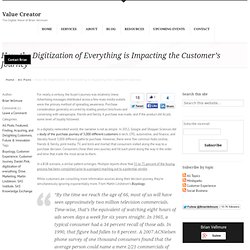 The Digitization of Everything: It's Impact on the Buyer's Journey and Marketing's Role – Value Creator
The Data Behind What Makes an Effective Sales Process - The Infographic
We all know how important a sales team is to any organization. And we also know that fine tuning a sales team for optimal performance does wonders for the health and culture of a business. Here are some key insights to get your sales process delivering above par results for years to come.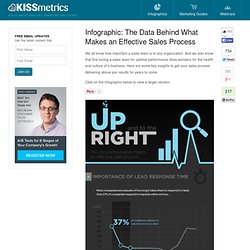 Would you like to know how to get more customers who can't wait to buy your products and services? It's a lot simpler than you might think.
15 Psychological Triggers to Convert Leads into Customers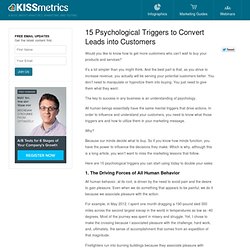 The digitization of everything — and its impact on customer experience - Customer Intelligence
inShare1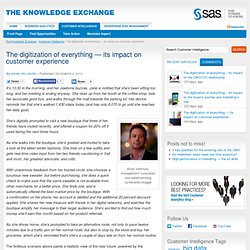 Webinar Details Influence: Does Your Sales Team Understand It?Are They Using Proven Influence Methods?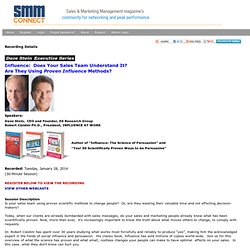 TrainingPayback® » SMMConnect » Welcome Page » robertcialdini_jan23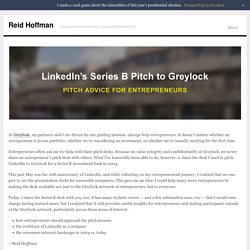 7.4K Flares7.4K Flares ×
LinkedIn's Series B Pitch to Greylock: Pitch Advice for Entrepreneurs
The Stanford Study that just Might Help you Sell More
Salespeople know they won't close a deal if they can't make the connection between their solutions and a high-value outcome.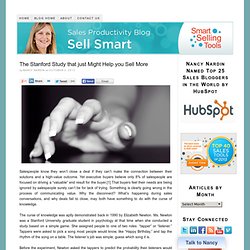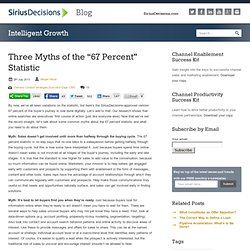 Demand Creation Strategies,Executive Edge: CMO By now, we've all seen variations on the statistic, but here's the SiriusDecisions-approved version: 67 percent of the buyer's journey is now done digitally. Let's add to that: Our research shows that online searches are executives' first course of action (just like everyone else). Now that we've set the record straight, let's talk about some common myths about the 67 percent statistic and what you need to do about them. Myth: Sales doesn't get involved until more than halfway through the buying cycle.
Three Myths of the "67 Percent" Statistic The real enemy of salespeople today isn't their archrivals; it's no decision. That's according to the several hundred business-to-business salespeople I conducted recently. What is it that prevents a prospective customer from making a purchase even after they have conducted a lengthy evaluation process? The reasons may surprise you.
Why Customers Don't Buy - Steve W. Martin
What a Great VP Sales Actually Does. Where The Magic Is. And When to Hire One. | saastr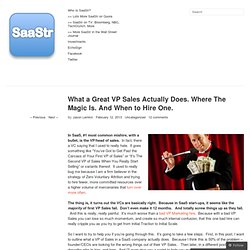 In SaaS, #1 most common mishire, with a bullet, is the VP/head of sales. In fact, there a VC saying that I used to really hate. It goes something like "You've Got to Get Past the Carcass of Your First VP of Sales" or "It's The Second VP of Sales When You Really Start Selling" or variants thereof. It used to really bug me because I am a firm believer in the strategy of Zero Voluntary Attrition and trying to hire fewer, more committed resources over a higher volume of mercenaries that turn over more often.
Banish Indecision: Three Ways To Get To 'Yes'
Insight And Challenging Without Outcomes Is Just Dreaming
Our customers want insights–they want to learn more about what they could achieve, how they can improve, why they might change! In my experience, this has always been critical to engaging customers. Today, it's just as critical, perhaps more so, because if we aren't providing it, they can find it elsewhere. But Insight and Challenging the customer to think differently is not the goal, it's only the beginning. Insight helps the customer to understand new possibilities and should instigate change.
In December 2012, six experts in the B2B Sales industry came together for a webinar to find 32 of the must have sales tools for 2013. That webinar has been transcribed and enriched into this eBook brought together by InsideView. Although you may not be seeking new sales tools, this eBook will nonetheless open your eyes to several effective products for sales professionals and teams alike.
Free eBook: 32 Sales Tools for 2013
B2B Sellers, Wake Up! Adopt Buyer Experience Management, or Get a Pink Slip from Customer 2.0
The traits in a salesperson that executives find valuable and strategic, namely focusing on solving a problem (13%) and on driving an end result for them (8%), were the least common traits perceived by buyers. —Forrester Research The B2B sales profession is in denial. That's the overwhelming conclusion I've reached after watching the painfully slow response of B2B Sellers to the rise of customer power. Instead of truly engaging as buyers expect, Sellers—the combined marketing and sales organizations—are tweaking 50-year-old selling approaches and loading up technology to optimize internal processes. This inside-out approach is a recipe for failure.
When Anneke Seley joined Oracle as the growing company's 12th employee in the early 1980s, the modern concept of Sales 2.0 wasn't even a glimmer in the B2B technology world's eye. In fact, for an industry that was largely field-sales focused at the time, executing an inside sales strategy was evolutionary enough. Some leading sales organizations even viewed a phone-based sales approach as a gimmick that wouldn't last. But Oracle and Seley saw things differently. Unlike some of its competitors, Oracle chose to embrace what it considered a sales paradigm shift, encouraging Seley to design and implement its first inside sales operation, OracleDirect.
Sales 2.0: How Your Business Should Adapt
The annual Buyersphere report from BaseOne, in conjunction with B2B Marketing, Research Now, and McCallum Layton, consists of interviews with B2B buyers who have made actual business purchases in the last 12 months. By asking detailed questions about the actual journey the buyers went through, the report gives what it calls "concrete, reliable findings [that can] be used to convince your clients, persuade your bosses, and defend your decisions". The full report can be downloaded at http://bit.ly/buyersphere12. (Note: The report surveys buyers in the UK, France, Germany, and Italy so is obviously focused on European buyers, but I believe the insights below are relevant to all markets.) I was particularly struck by the actual data that showed how buyers are using social media in the process, especially by age.
How B2B Buyers Really Use Social Media: Insights from the 2012 Buyersphere Report
How to Turn a Relationship Into a Sale - Keith Ferrazzi
McKinsey: 5 winning strategies of the world's top sales organisations
Jon Ferrara at Sales 2.0 Conference
Social Selling Tactics that Work
How One Company Helps Sales Teams Leverage Their Social Influence [VIDEO]
Want to Influence Others- Move to Creation From Need
IBM's Social Selling: The Computer Giant Finds B2B Leads in Social Media
Selling is Hard Work
OC Sales & Marketing Roundtable
Compliance Is Not The Point Of CRM Systems! | Partners in EXCELLENCE Blog -- Making A Difference
Trust: It matters (more than you think)
Are your a Value Creator?
Top 12 Ways Sales Leverages the Internet « InsideView's Sales Intelligence | B2B Sales Productivity
Jump-Start the Week with These 10 Sales Posts « InsideView's Sales Intelligence | B2B Sales Productivity
MAI Series: A Sales View of Marketing Automation
The Sales 2.0 Conference | Santa Monica 2011 | Homepage
The Case for Sales Intelligence
Get the hottest trends from your friends
How do you decide which customers are more important than others?
What Happened To Common Sense? | Partners in EXCELLENCE Blog -- Making A Difference
Blogging Innovation » How Top Salespeople are Using Social Media
Seven Personality Traits of Top Salespeople - Steve W. Martin
How do you get a small sales organization to buy in to CRM?
Why sales should stop "checking in" and five tips to avoid it | Focus.com
How Sales Intelligence Helps a Hot SaaS Company Boost Sales Productivity
The Future of Buyer Relationships
There's More To The Discovery Process Than Identifying Needs!