Musique
Supernova by raylamontagne. Delicieuse Musique - Hubbabubbaklub Mopedbart. 21 Jan Hubbabubbaklub - Mopedbart Hubbabubbaklubb, or some integrated volapük we'd like to think.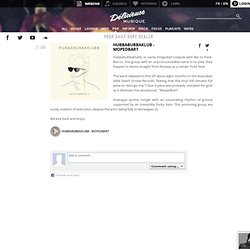 But no, this group with an unpronounceable name is no joke, they happen to derive straight from Norway as a certain Todd Terje. The band released its first EP about eight months on the Australian label Death Strobe Records. Tearing that the vinyl still remains full price on discogs, the 7' face A piece was probably mistaken for gold as it discloses the sensational : "Mopedbart". Listen to Music Curated by Music Experts. BBC Radio - Programmes categorised as Music, Available now. DJ Makala "Baile Caribbean Latin Beats Mix" by DJ Makala. Free Audiobooks and eBooks - Librophile. Drug Inspired Music - Stereodose Radio. The XX - You Got The Love (Florence And The Machine cover)
Programme per day. Videos | The Dedicated Nothing. Harmonium - Histoires sans paroles 2/2. Schedule - Smalls Jazz Club. Pixie Radio | Difusión de música independiente. Study Determines This Is the Most Relaxing Song Ever. Grooveshark - Listen to Free Music Online - Internet Radio - Free MP3 Streaming. INCREDIBOX. Matrix.swf from sembeo.com - StumbleUpon. Música Gratis En Línea - Radio por Internet - Jango. For when you're stressed and freaking out and ready to give up | popeye072 - StumbleUpon.
We're young enough to say this has gotta be the good life. | makruse |... - StumbleUpon. Handcrafted internet radio | 8tracks. Clapity Click Clap! | crisics | 8tracks.
---