Ruby
Rolling with Ruby on Rails Revisited, Part 2. By Bill Walton 01/05/2007 Editor's note: this is the second part of Rolling with Ruby on Rails Revisited, an update to Curt Hibbs's influential Rolling with Ruby on Rails and Rolling with Ruby on Rails Part 2.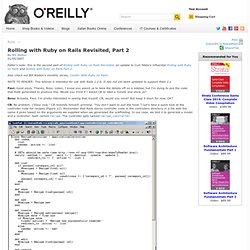 Also check out Bill Walton's monthly series, Cookin' With Ruby on Rails. NOTE TO READER: This tutorial is intended for use with Rails 1.2.6. It has not yet been updated to support Rails 2.x. RailsPlayTime. Ruby on Rails Documentation. Intermediate Rails: Understanding Models, Views and Controllers. I'm glad people liked the introduction to Rails; now you scallawags get to avoid my headaches with the model-view-controller (MVC) pattern.
This isn't quite an intro to MVC, it's a list of gotchas as you plod through MVC the first few times. Here's the big picture as I understand it: What is ruby? Ruby is "an interpreted scripting language for quick and easy object-oriented programming" -- what does this mean?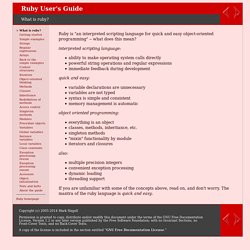 Interpreted scripting language: ability to make operating system calls directlypowerful string operations and regular expressionsimmediate feedback during development. String. Str % arg → new_str click to toggle source Format—Uses str as a format specification, and returns the result of applying it to arg.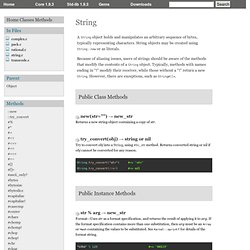 If the format specification contains more than one substitution, then arg must be an Array or Hash containing the values to be substituted. See Kernel::sprintf for details of the format string.
---