Dieselpunk Blogs
The Punkettes (Steampunk, Clockpunk and Dieselpunk, Oh my!): Film Review: Iron Sky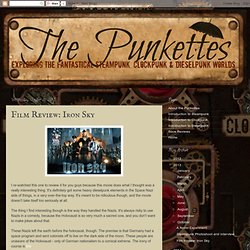 I re-watched this one to review it for you guys because this movie does what I thought was a really interesting thing. It's definitely got some heavy dieselpunk elements in the Space Nazi side of things, in a very over-the-top way. It's meant to be ridiculous though, and the movie doesn't take itself too seriously at all. The thing I find interesting though is the way they handled the Nazis. It's always risky to use Nazis in a comedy, because the Holocaust is so very much a sacred cow, and you don't want to make jokes about that. These Nazis left the earth before the holocaust, though.
Steampunk'd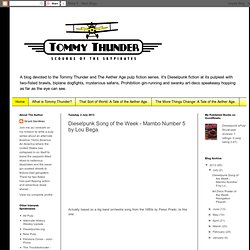 Tommy Thunder and The Tales of the Aether Age.
Tier Zero by Henry Brown My rating: 4 of 5 stars *Pulp Warning* All of my reading and reviewing is skewed towards epulp. All reviews are therefore skewed to that end. Reader beware :) *Pulp Warning* Overall: 4 stars (Recommended) - but drop a star if you're a pulp purist or think the politics may annoy you. Tier Zero, though not the pulpiest read you're likely to find, is a good read in the vein of an old-school men's adventure paperback.
Dieselpunk Song of the Week - Happy Swingin by Shemian
Dieselpunks After Dark
We here at Dieselpunks After Dark attended quite a few burlesque shows in 2013, and you've seen the photographic evidence. Here are the top 5 most viewed pictures from this past year's shows on Flickr. 1. Appaloosa Red - Black Magick Burlesque 2.
Cards of MisfortuneOne of the features of The Goblin Market live event is the chance to win a Card of Misfortune from one of our games or in trade for something valuable… like confessing what your favorite color is, your worst fears, or the name of your first love.Here is an example of one. Do share it with a friend or two.See more here: https://www.facebook.com/media/set/?set=a.545653162140683.1073741831.314514661921202&type=3Do check out our next live event, The Goblin Market presents The Carnival Obscura at The Steampunk World's Fair on May 16th in Piscataway, NJ.
Brass, Sass and Bullets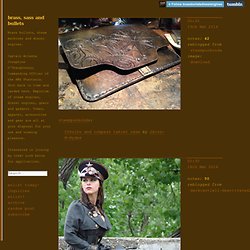 Posted By Traveler on 7. September 2012 The time between the World Wars saw some amazing developments in fighter technology, only surpassed by what came with the beginning of the jet age (which is worth another article altogether). One of the most significant developments was the move from bi- to monoplanes. The move was not a quick or fast one and different nations did it at different times. Towards the middle and late 1930′s, there were a number of advanced biplane designs in the arsenal of various major air forces around the world.
Dieselpunk Friday: Biplanes of the Interbellum | The Traveler's Steampunk Blog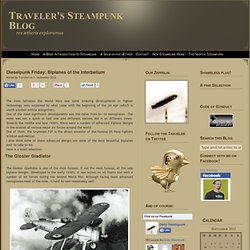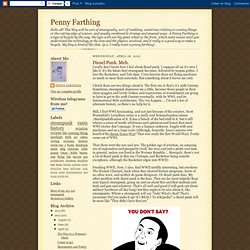 I really don't know how I feel about diesel punk. I suppose all on it's own I like it. It's the future that steampunk becomes, followed by raygun gothic. I love the Rocketeer, and Tale Spin. I love heavier-than-air flying machines as much or more than aerostats.
Diesel Punk. Meh.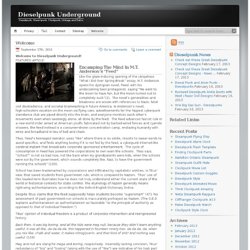 Dieselpunk Underground
Like the glaze-inducing opening of the ubiquitous "What I Did Over Spring Break" essay, M.T. Anderson opens his dystopian novel, , with his undiscerning teen protagonist, saying "We went to the moon to have fun, but the moon turned out to completely suck"(3). The novel's generalities and bleakness are woven with references to Nazis, fatal civil disobedience, and societal brainwashing in future America. In Anderson's novel, high-schoolers vacation on the moon via flying cars, advertisements for the hippest cyberpunk slamdance club are piped directly into the brain, and everyone monitors each other's movements even when seemingly alone: all done by the feed. The feed advances fascist rule in a new world order aimed at American youth; fabricated not by barbed-wired fences and cyanide showers, the feed instead is a consumer-driven concentration camp, enslaving humanity with wires and broadband in lieu of ball and chain.
No? It's a good job you've got months to prepare, then, because the first one takes place on November 12 2012. The date was chosen because while there's some flexibility in what dieselpunk is, the most widely-accepted date for the start of the Diesel Era is the end of the First World War, November 11 1918.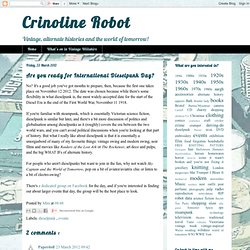 Are you ready for International Dieselpunk Day?
ol Guys From The Dieselpunk Era
Retrofuturismo. Así comenzó un proyecto que ha dado paso a que cada día primero aparezcamos puntuales y sin fallo en estas redes aethéricas, presentando el primer magazine de retrofuturismo en español. Nos hemos ido ajustando visualmente siempre con la intención de llegar a nuestros lectores sin dejar de contar información veraz y contenido de calidad. Gracias a todos, también somos la primer revista de este tipo que es de periodicidad mensual, a nivel mundial.
"El Investigador" Año II N°1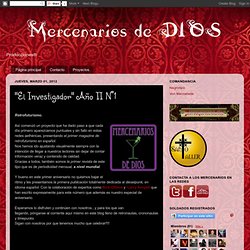 Since I did my first solo last week, I've built up about 5 hours of solo flight now. Previous to that, my instructor mentioned several times when she took me up in more questionable weather, that I'll need to start thinking about what my personal limits will be – what I'm confident I can handle with regards to winds and crosswinds, and what I might not be able to land the plane safely in. Post-solo, having flown a bunch on my own, I've noticed it really does change the way I think about that. The safety net is gone, but not only that.
Dieselpunk | Lindsay Kitson – Dieselpunk Author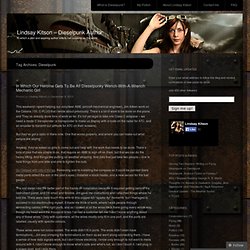 Welcome back to another weekly challenge at Our Creative Corner. This week's hostess is Holly Keane and Holly wants us to tie our artwork into a song title. Mine is "On the Road Again" by Willlie Neslon. So what do you think of this Diesel Punk look? What is Diesel Punk, you ask? What happened to Steampunk, you wonder?
On the Road Again with Diesel Punk
Steampunk'd | marcelgomes: Dieselpunk Jet Pack
Dieselpunk
I've been mentioning on our Facebook page that we've got many new products in development and that I would soon be showing them off. Well, wait no longer as the announcement time is here! This isn't everything we've got coming up, but will give you a taste of what to expect. Share This Image »
Industria Mechanika » Dieselpunk
The Fedora Lounge
"QUANTUM SHOT" #509Link, by A. Abrams Who would've thought that rusty pipes can spawn a cultural movement?
Dieselpunk: Love Affair with a Machine
The Saunders-Roe (Saro) A.19 Cloud amphibious flying-boat was produced in two forms: as a civil eight-seater and as a military trainer. In the latter role the RAF received 16 from 1933. The large cabin provided accommodation for eight pupils; six pupils and wireless and electrical equipment, navigation instruments and signalling apparatus; or four.pupils and the above equipment for navigational training. Alternatively, the Cloud could be used for flying training, to simulate the conditions to be met with a larger service type of flying-boat. Power was provided by two 253kW Armstrong Siddeley Double Mongoose engines.
Dieselpunk
Gatehouse Gazette | The Gatehouse
In our Space 1889 campaign, Venus has always had a tertiary role after Mars and Earth. So far we have only put one story arc there, mainly to test whether our players would enjoy it. The arc comprised a convoluted mix of a missing Swedish prince, a major nectar rush (i.e. a Venerian "gold rush" equivalent), Dutch trade politics, and some Czech nationalists' anti-Habsburg schemes. After the finale, however, the players concluded that they rather stick to Mars, because Venus proved too limited in scope. Our campaign had reached 1894 when the player characters landed on Venus, so we, the two gamemasters, made a timeline with various notable post-1889 developments, some of which are non-canon.
Drömsmedjan
Dieselpunk
dieselpunk
Dieselpunk: for the war effort! « The Flying Fortress
Smoking Lounge
Dieselpunks - Dieselpunk + Steampunk Culture