SLIDERS
Pretty Sliding Login Panel With MooTools/jQuery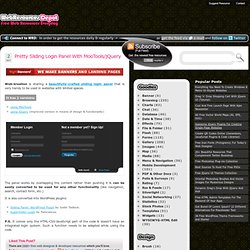 Web-kreation is sharing a beautifully-crafted sliding login panel that is very handy to be used in websites with limited spaces. It has 2 versions: The panel works by overlapping the content rather than pushing it & can be easily converted to be used for any other functionality (like navigation, search, contact form, etc.)
This article is one of the largest and most up to date collections of jQuery slider plugins . There are different types of sliders to choose from and it is important to review the options to get the right slider design for your site. I have included basic image sliders, mixed content slider, gallery sliders, carousel sliders, banner rotators and some even have fully responsive support. jQuery slider plugins are very useful and increasingly popular web page elements used for highlighting important content. By using jQuery slider plugins, we can create amazing HTML slider effects with fancy animations of content elements like text and images. jQuery takes care of the difficult aspects like browser support and typically when using jQuery plugins it can be done with very little coding. This have made jQuery sliders and jQuery banner slideshow scripts very popular on most types of websites where they are used to feature multiple products, news etc. without taking up a lot of space.
Awkward Showcase - Demo #1
This is a selection with 200 of the best jQuery sliders plugins and tutorials with a lot of differents features, we're pretty sure you'll find exactly what you need or been looking for a while now, so please, go ahead and enjoy.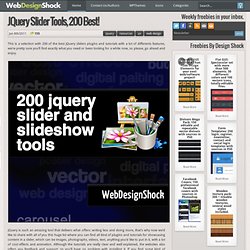 AnythingSlider