CSS3
Five secrets on handling marriage counseling Marital therapy is adopted by people due to a variety of reasons. Some couples may be experiencing conflicts or even some may be happily in marriage, but take counseling so as to enhance their relationship. It is normally used as a final move to stop divorce and also as a way of enhancing relationships. Conflicts are experienced by all married couples in their relationships. How couples deal with every problem is very critical in solving these differences.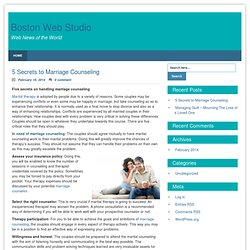 Demo – An Introduction to CSS 2.1 and CSS 3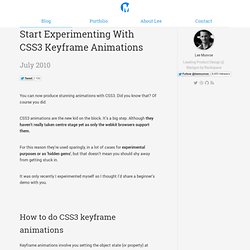 You can now produce stunning animations with CSS3. Did you know that? Of course you did. CSS3 animations are the new kid on the block.
Start Experimenting With CSS3 Keyframe Animations | Lee Munroe
We are certainly at an interesting point in time with the web. There are new techniques being created every day, and as developers, we have the privilege of deciding how and when to use them. I'm the new guy at Viget (only been here a few weeks), and every company is different, so it is interesting adapting to Viget's standards. Some companies utilize progressive enhancement more than others, and I love that we utilize it when we can. One big item for me is how much we use CSS3. Yes I know, it is not fully supported across all browsers.
Practical Uses of CSS3 | ...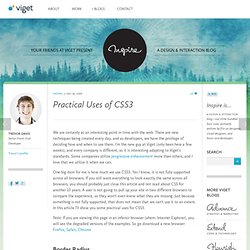 net magazine is the number one choice for the professional web designer and developer. It's here that you find out about the latest new web trends, technologies and techniques – all in one handy package. Each issue boasts a wealth of expert tips and advice, including in-depth features and over 30 pages of advanced front- and backend tutorials on subjects as diverse as CSS, HTML, JavaScript, WordPress, PHP, and plenty more. net compiles the hottest new sites from around the web, and being the voice of web design, our mission is to source the best articles written by the best people in the industry and feature interviews and opinions crammed with inspiration and creative advice.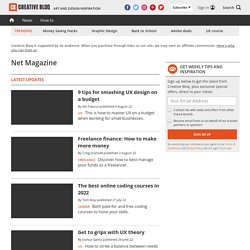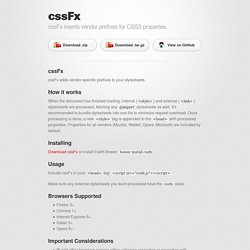 cssFx is a standalone polyfill that inserts the vendor-specific CSS3 properties necessary for old and new browsers. This saves you tons of time, maintenance, and bandwidth! Check it out:
CSS3 Cookbook: Cutting Edge Text Effect and Web Typography Tutorials
While I was coding the Notepad theme, I've learned some new CSS3 features and now I would like to share it with you. View the demo to see a Mac-like multi-level dropdown menu that I've created using border-radius, box-shadow, and text-shadow. It renders perfect on Firefox, Safari and Chrome. The dropdown also works on non-CSS3 compitable browsers such as IE7+, but the rounded corners and shadow will not be rendered. View Demo CSS3 Dropdown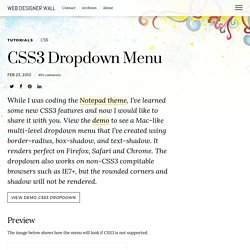 HTML5 always an important phenomenon within web design community. Another most valuable aspect that web designers should accept is CSS3. CSS3 offers new and exciting improvements on your web design and development. In this article we present some useful collection of CSS3 Tools for your next web development.