Geek architecture
www.thevenusproject.com/downloads/ebooks/Jacque Fresco - Designing the Future.pdf
Kernavė - deKO.LT portfolio
บ้านเรา น่าทดลองทำดูบ้างเริ่มต้นทำกันสาด หรือหลังคาระเบียงเล็กๆก่อน ก็น่าจะได้เนอะ.. สำหรับเพื่อนสมาชิกที่สนใจ สวนหลังคา มีบทความที่พูดถึงการจัดสวนหลังคาจากที่ต่างๆ ดังนี้ Roof Garden : ทางออกอีกแห่งสำหรับวิกฤตพลังงาน Roof Garden เป็นทางออกที่น่าสนใจเกี่ยวกับการลดการใช้พลังงาน ในภาวะที่โลกเราต้องการพลังงานอย่างไม่หยุดขนาดนี้ นอกจากจะช่วยเรื่องพลังงานแล้วยังเป็นอีกวิธีที่ช่วยเพื่มสีเขียวให้แก่เมืองด้วย
สวนบนหลังคา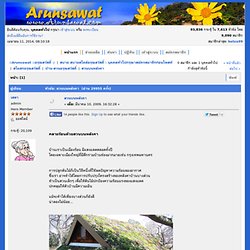 This article by Marc Kristal from Metropolis Magazine, originally titled "Digital Details," looks at the work of NRI, a New York company that is leading the way when it comes to 3D Printing (or rather, additive manufacturing) – finding that there is a craft in these machine-produced models after all. First things first: The term "3-D printing" is a misnomer according to Arthur Young-Spivey, the digital fabrication specialist at NRI—a 116-year-old, New York–headquartered supplier of reprographic services to architects and their tradespeople. "The correct term is 'additive manufacturing,'" he explains. "People call it 3-D printing because it enables you to wrap your head around it, but in some ways it's confusing." Young-Spivey has a point, as the process by which a digital file is converted into an object isn't "printing" in the commonly understood sense of applying pigment on a substrate.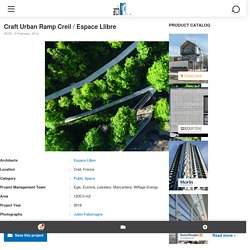 asa
Mouse: Click the mouse in the drawing region to add new sites to the Voronoi Diagram or Delaunay Triangulation. Voronoi Diagram and Delaunay Triangulation radio buttons: These toggle between the Voronoi Diagram and the Delaunay Triangulation. Your current set of sites remains the same for both diagrams. Clear button: Press this to begin a new diagram with no sites. More Colorful checkbox: When it's checked each Voronoi region and each Delaunay triangle has a randomly chosen color. This doesn't provide any additional insight, but it looks nice.
Voronoi/Delaunay Applet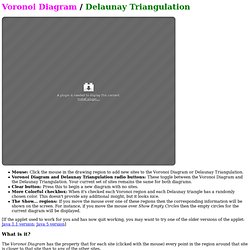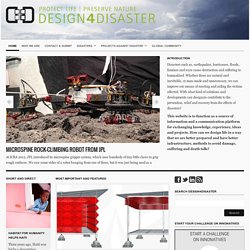 Introduction Disasters such as, earthquakes, hurricanes, floods, famines and wars cause destruction and suffering to humankind. Whether these are natural and inevitable, or man-made and unnecessary, we can improve our means of reacting and aiding the victims affected. With what kind of solutions and developments can designers contribute to the prevention, relief and recovery from the effects of disasters? This website is to function as a source of information and a communication platform for exchanging knowledge, experience, ideas and projects.
Design for disaster
D4D
Tulip Siphon Water Filter : Design for disaster – aid, victims, information, communication, knowledge, experiences, ideas, projects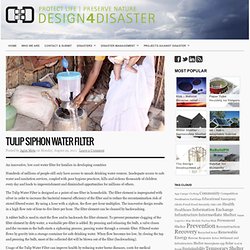 Posted by Agim Meta on Monday, August 29, 2011 · Leave a Comment An innovative, low-cost water filter for families in developing countries Hundreds of millions of people still only have access to unsafe drinking water sources. Inadequate access to safe water and sanitation services, coupled with poor hygiene practices, kills and sickens thousands of children every day and leads to impoverishment and diminished opportunities for millions of others. The Tulip Water Filter is designed as a point-of-use filter in households.
มหาวิทยาลัยเทคโนโลยีมหานครหนุนโครงการนักศึกษา...สร้างสำนึกจิตอาสาช่วยเหลือสังคมเน้นตอบโจทย์ความต้องการของผู้ประสบภัยน้ำท่วมในหลายจังหวัด ด้วยสิ่งประดิษฐ์"เครื่องกรองน้ำแบบฉุกเฉิน" เน้นวัสดุท้องถิ่นใช้งานง่าย ต้นทุนต่ำทำได้ใช้...ใช้จริง? จากสถานการณ์น้ำท่วม หลายพื้นกำลังประสบปัญหามีแต่น้ำ...แต่น้ำใช้ไม่ได้เพราะน้ำสกปรก เครื่องกรองน้ำฉุกเฉินควรที่จะทำหน้าที่กรองน้ำได้ทุกรูปแบบทั้งน้ำท่วมขัง น้ำคลอง น้ำบ่อแอ่งน้ำตื้น น้ำตะกอนดินโคลน สะดวกใช้ง่ายไม่ยุ่งยากเพียงผู้ประสบภัยตักน้ำที่ท่วมขังอยู่ในพื้นที่กรอกใส่เครื่องกรองน้ำได้เลยทันทีโดยไม่จำเป็นต้องรอการตกตะกอนของน้ำด้วยสารส้ม เมื่อผ่านกระบวนการกรองแล้ว จะได้น้ำใสสะอาดเพื่อการชำระล้างได้ทันทีไม่ต้องใช้พลังงานไฟฟ้าสิ่งนี้จะช่วยเพิ่มความมั่นใจให้กับผู้ใช้น้ำที่ประสบปัญหาในปัจจุบัน ดร.
เครื่องกรองน้ำแบบฉุกเฉิน แนวคิดจิตอาสาเด็กม.มหานคร...เพื่อช่วยคนไทย