Other
torkade rosor – Craft of the Day, dried roses
Ett oplanerat pyssel kan man kalla detta lilla projekt. I fredags hade min fyraåriga dotter besök av sin jämnåriga dagiskompis. Dessa två busiga sötnosar var ute och lekte skattletare i trädgården.
knappmagneter – Craft of the Day, magnetic buttons
För att göra knappmagneter behöver du endast: - Knappar (gärna i lite olika modeller och färger) - Runda magneter - Starkt klister (Universalklister t ex) Jag satte en liten bit vitt papper mellan knappen och magneten för att jag ville att jag inte ville att den svarta magneten skulle synas genom hålen i knapparna. Enklare än så här blir det knappast… To make button magnets, all you need is: - Buttons (preferably in some different models and colors)- Round magnets- Strong glue I put a small piece of white paper between the button and magnet because I did not want the black magnet to be visible through the holes in the buttons. It doesn't get much easier than this…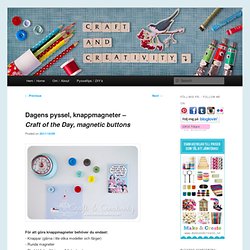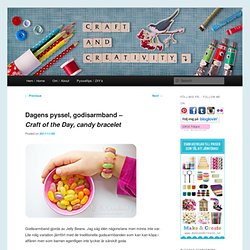 godisarmband – Craft of the Day, candy bracelet
Godisarmband gjorda av Jelly Beans. Jag såg idén någonstans men minns inte var. Lite rolig variation jämfört med de traditionella godisarmbanden som kan kan köpa i affären men som barnen egentligen inte tycker är särskilt goda. För att göra dessa använde jag mig av en vass nål, elastisk tråd (som man använder till pärlor t ex) och Jelly Beans. Otroligt enkelt och mina tjejer blev överförtjusta. Kul tips till ett kalas kanske?
Jag fick med mig lite kapsyler hem från vår Thailand-resa i julas. Inspirerad av ett Martha Stewart-pyssel så fick jag för mig att jag skulle göra miniatyrramar för några av våra Thailands-bilder. Så här gick jag till väga: —–I brought some bottle caps back with me from our trip to Thailand. Inspired by a Martha Stewart craft, I decided to make some miniature picture frames for our holiday photos.
Fotoramar av kapsyler – Bottle cap photo frames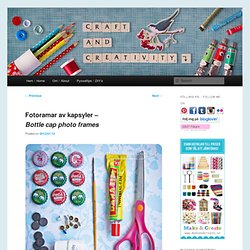 Det började med att jag ledsnade totalt på röran i mitt badrumsskåp. Sminkborstar låg huller om buller med mascaror, läppglans och kajaler. Först och främst var det dags att rensa. Bort med allt det gamla, det uttorkade och det som jag inte använder.
Sminkhållare – Make-up holder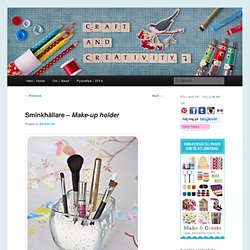 Hårnålar och gamla knappar har kanske de flesta av oss hemma i gömmorna? Sy fast knapparna på hårnålen, droppa dit lite superlim för att ge extra stadga och vips – nya, fina hårspännen! Visst låter det nästan som en titel på en Agatha Christie-bok "Hårnålar och gamla knappar", ungefär som "Arsenik och gamla spetsar"… ——I guess most of us have some bobby pins and old buttons laying around in the house. Sew the buttons on to the bobby pin, add some super glue to provide extra stability and voilá – new, pretty hair pins! "Haripins and old buttons"… It kind of has the same feeling to it as that old Agatha Christie murder story – "Arsenic and old lace".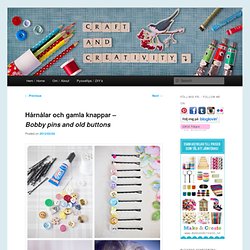 Hårnålar och gamla knappar – Bobby pins and old buttons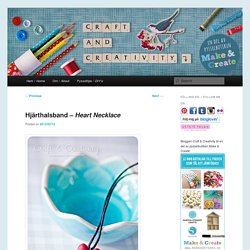 Jag fortsätter på hjärt-temat ett tag till och visar er ett halsband som jag gjort av Fimo-lera. Jag formade hjärtat för hand, gjorde ett litet hål med en synål och brände hjärtat i ugnen i 30 min på 110°C. När hjärtat svalnat trädde jag ståltråd genom hålet, tvinnade ståltråden till en ring och fäste bandet i ringen. ——–I'll stick to my heart themed crafts for a bit longer and show you a necklace that I made of Fimo clay. I shaped the heart by hand and used a needle to make a small hole.
Hjärthalsband – Heart Necklace