sides
Get flash to fully experience Pearltrees
My avocado obsession continues, this time with Stovetop Avocado Mac and Cheese! If you like our Creamy Avocado Pasta , you will love this decadent macaroni and cheese. It is basically the same delicious pasta, but kicked up a notch. Josh thought I was a little looney when I told him what we were having for dinner, but after one bite, he was in mac and cheese heaven. If you are an avocado lover, you will go crazy for this macaroni and cheese! This avocado macaroni and cheese is so easy to make.
There's nothing like a french fried potato. The taste, the texture, the dip-ability; it's probably one of my favorite go-to comfort foods. However, I don't need the fat of an actual deep fried potato, and I certainly do not favor processed french fries that come from the frozen food section of the grocery store. Enter: Healthy French Fries*
These nuts are slightly sweet and salty and laced with cinnamon and vanilla. I've made candied nuts quite a bit in the past, but I love this newest recipe. It's not as sweet, so I like them better for snacking on or for putting in salads. They add just the right amount of sweet and saltiness to a salad. Yum! This method of using an egg white coating adds a very nice crunchy texture.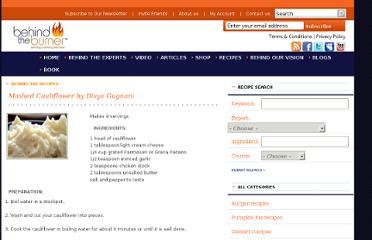 Mashed Cauliflower by Divya Gugnani Makes 4 servings 1 head of cauliflower