General
A Wall That Plays Music When It Rains. The Town With No Roads. Wadi-Rum-Desert-Lodge-2.jpg (JPEG Image, 728x485 pixels) Steen.jpg (JPEG Image, 680x453 pixels) Booze it Up! 13 Rad Recycled Bottle Crafts & Projects.
Got a recycling bin full of glass bottles?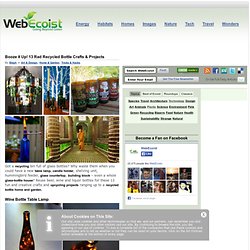 Why waste them when you could have a new table lamp, candle holder, shelving unit, hummingbird feeder, glass countertop, building block – even a whole glass-bottle house? Reuse beer, wine and liquor bottles for these 13 fun and creative crafts and upcycling projects ranging up to a recycled bottle home and garden. Wine Bottle Table Lamp (images via: wit and whistle) Turning any wine bottle into a table lamp is as simple as drilling a hole and inserting a strand of lights. 10 Architecturally Wondrous Staircases » Curbly | DIY Design Community « Keywords: architecture, stairways, staircases, form and function.
A friend forwarded me one of those emails her husband got at work.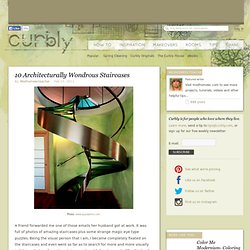 It was full of photos of amazing staircases plus some strange magic eye type puzzles. Being the visual person that I am, I became completely fixated on the staircases and even went so far as to search for more and more visually indulging photos of creative staircases. I couldn't get enough. Travel Norway. The Architectural Way. « Spectacular Architecture in Spain [17 HDR Photos. Plaza Zorrilla, Valladolid (Spain)Spectacular architecture HDR photo: marcp_dmoz Some photographers like Marc love to take photos and then process them to generate HDR (high dynamic range) images.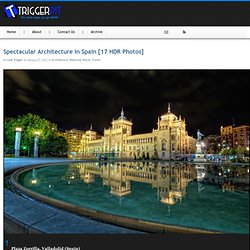 He's from Spain and has an amazing eye and talent for capturing architecture. Here are 17 gorgeous examples that Marc took in the last year to help us take a virtual tour of Spain and admire the architectural beauty that can be found there. [17 Pictures] Hint: Use "J" and "K" keys to navigate from picture to picture. Church of San Manuel and San Benito in Madrid (Spain)Spectacular architecture photo: marcp_dmoz. What the French Think Hell Looks Like | The Last Goddess.
---