General
Wadi-Rum-Desert-Lodge-2.jpg (JPEG Image, 728x485 pixels)
A friend forwarded me one of those emails her husband got at work. It was full of photos of amazing staircases plus some strange magic eye type puzzles. Being the visual person that I am, I became completely fixated on the staircases and even went so far as to search for more and more visually indulging photos of creative staircases. I couldn't get enough.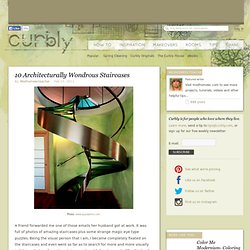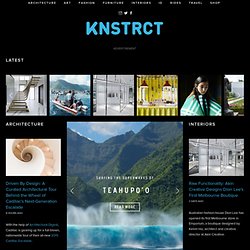 In 2005, Norway initiated a massive 15-year agenda to generate more tourism. The government turned to architects and designers to concept and build tourist routes and architectural rest stops to enhance the experience of the stunning Norwegian landscape. The projects span from the southern town of Jaeren to the northern tip of Varenger. Visitors and Norwegian natives alike are afforded the luxury of safe roads and reveling in clean and relaxing architecturally inspired viewpoints.
Plaza Zorrilla, Valladolid (Spain)Spectacular architecture HDR photo: marcp_dmoz Some photographers like Marc love to take photos and then process them to generate HDR (high dynamic range) images. He's from Spain and has an amazing eye and talent for capturing architecture. Here are 17 gorgeous examples that Marc took in the last year to help us take a virtual tour of Spain and admire the architectural beauty that can be found there. [17 Pictures] Hint: Use "J" and "K" keys to navigate from picture to picture. Church of San Manuel and San Benito in Madrid (Spain)Spectacular architecture photo: marcp_dmoz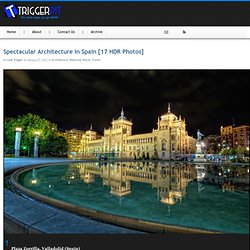 What the French Think Hell Looks Like | The Last Goddess
'the helix bridge', singapore by cox rayner architects and architects 61 soccer city national stadium in south africa, a bamboo house in costa rica, the apple store on the upper west side, US and the medieval & renaissance galleries at the victoria & albert museum, UK are among the 236 international projects to feature on this year's shortlist for the world's biggest architecture contest - the world architecture festival (WAF) awards. projects that range from a church in england to a prison in norway, will go head to head at the festival, which is designed to celebrate the aspirations and concerns of the international architectural community. contested in front of a live public delegation as well as a jury of internationally celebrated architects, the projects are set to battle it out for the prestigious accolade of world building of the year 2010. this year's awards have attracted entries from 55 different countries, spanning the globe.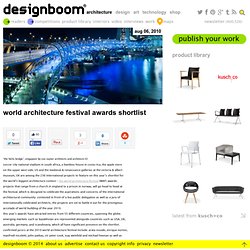 world architecture festival awards - shortlist