cultural
Get flash to fully experience Pearltrees
At the Fuji Kindergarten in Japan, Tezuka Architects created a unique environment that, as a tool for learning, promotes freedom of movement. "Ring Around a Tree" is the extension of an existing kindergarten that consists of a wood and transparent glass volume spiraling upward, enveloping a Japanese Zelkova tree. The project creates spaces for play and foreign language instruction, while also providing a fun area for the children to wait for the school bus. Though, to the average adult, the space appears to have just two floors, for the children it has six with some areas being just three feet (one meter) high. Elements like railings and handrails are very slender, while the interior floors are made of wood. All outdoor areas are covered with soft rubber mats to help cushion the children's inevitable falls.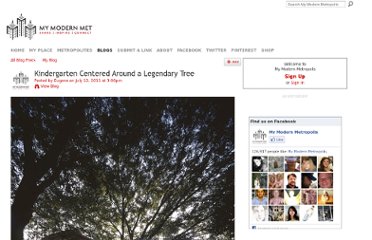 first image 'gina tricot headquarters' by wingårdh arkitektkontor, borås, sweden images courtesy of wingårdh arkitektkontor swedish studio wingårdh arkitektkontor has completed 'gina tricot headquarters' an ambivalent design that is both uniform and multifaceted at the same time. located in borås, sweden, the structure houses the main offices for the popular scandinavian fashion brand. side elevation
first image TPAC - taipei performing art center by NL architects image courtesy NL architects NL architects have designed the taipei performing arts center aiming to make the building accessible to everybody. the public character of the center is guaranteed by the elevation of a substantial part of its program, creating a public square underneath it. as such the square becomes part of the building inside of it. the design which could be considered to a table with 'four legs' supports a 'tabletop' that accommodates 3 storeys. inside you'll find an elevated fragment of the city, a public browsing space where cultural facilities such as a multimedia library, music stores, galleries, lobbies, bars, restaurants and clubs will be included. balconies and terraces with different programs will also be included in the space consisting of swimming pools, a skate area, playground, hotel garden and cafe.