BYU Sports
TRedd : My bro just sent me this. I
Day 2: KSL Sportsradio Coach's Show | Rise and Shout, Cougazul's Out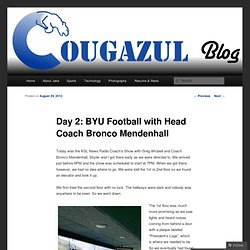 Today was the KSL News Radio Coach's Show with Greg Wrubell and Coach Bronco Mendenhall. Skyler and I got there early as we were directed to. We arrived just before 6PM and the show was scheduled to start at 7PM. When we got there, however, we had no idea where to go. We were told the 1st or 2nd floor so we found an elevator and took it up. We first tried the second floor with no luck.
Share photos and videos on Twitter
Share photos and videos on Twitter
Photo by cougazul
Photo by cougazul
Photo by cougazul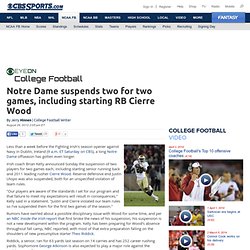 Less than a week before the Fighting Irish's season opener against Navy in Dublin, Ireland (9 a.m. ET Saturday on CBS), a long Notre Dame offseason has gotten even longer. Irish coach Brian Kelly announced Sunday the suspension of two players for two games each, including starting senior running back and 2011 leading rusher Cierre Wood.
Report: Notre Dame starting running back Cierre Wood suspended
2n6gcif
Photo by koti_samani
Photo by cougazul
Photo by cougazul
BYU Football 2012 Trailer - produced by MVHS Dynasty
The Countdown By Paul Myerberg // Aug 14, 2012 The suspicion was there in October and November, but it didn't become official until Riley Nelson duped Tulsa, Dan Marino-style, late in the fourth quarter of December's Armed Forces Bowl. Then it was official: Nelson's become a legend. Not quite a Ty Detmer-level legend, mind you; Detmer was legendary, and there's a difference.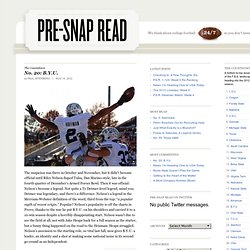 Pre-Snap Read: A College Football Blog
Photo by cougazul
Mark_RK : #BYU http://t.co/HhMLZWvf
Mark_RK : Quarterbacks #BYU http://t.co/Fq14WtDa
Mark_RK : Man, this makes me happy to
Let the fun begin! #BYU on Twitpic
neck-line1
3in X 4.2in - College Go BYU Wall Laptop Car or Truck Window Decal Sticker 3in X 4.2in - College Go BYU Wall Laptop Car or Truck Window Decal Sticker This decal is available in your choice of sizes and colors. This decal can be applied to any smooth flat or simi curved surface. This decals is available in sizes large enough to be applied to walls as wall art. Decorate with custom vinyl decals...car windows, truck windows, cars, trucks, horse trailers, kayaks, boats, vans, motorcycles, ATVs, snowboards, snowmobiles, surfboards, RVs, helmets, glass doors, gun cabinets, mirrors,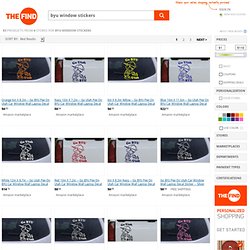 Byu window stickers
Welcome to YouTube! The location filter shows you popular videos from the selected country or region on lists like Most Viewed and in search results.To change your location filter, please use the links in the footer at the bottom of the page. Click "OK" to accept this setting, or click "Cancel" to set your location filter to "Worldwide". The location filter shows you popular videos from the selected country or region on lists like Most Viewed and in search results. To change your country filter, please use the links in the footer at the bottom of the page.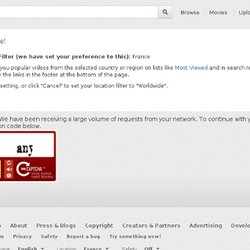 Broadcast Yourself
Football Gameplan's 2012 FBS Independents Season Preview
LOVE BYUTV... but... - CougarBoard.com
BYU football: Penn State scandal means 'the Y' stands alone - Provo BYU Cougars
Last year, it was observed that BYU and Penn State were the only two national champions in the human poll era, or since 1936, that had not committed a major violation of NCAA rules. Penn State may not have violated NCAA regulation, but what was allowed to happen both off and on that campus was worse than any violation we've heard of to date. So BYU stands alone.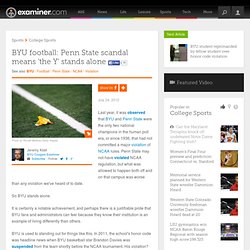 The cliché introduction to this story would be to say how TJ Fredette fights everyday to break free of his identity as the older brother of former college basketball star Jimmer Fredette, as the elder sibling works towards a successful rap career. But that's just not true. The truth is that being Jimmer's older brother helped TJ fight to get through the toughest time of his life to where he is now, just like TJ helped Jimmer reach the stardom he's enjoyed on the basketball court. So if you're wondering who TJ Fredette is.
Big Brother: Rapper TJ Fredette's Fight To Stay Behind The Mic And Find Inspiration In Jimmer « 2words The Top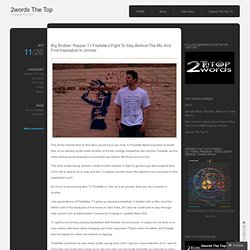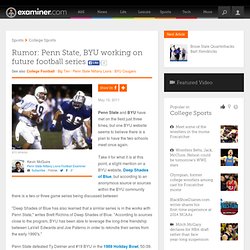 Penn State and BYU have met on the field just three times, but one BYU website seems to believe there is a plan to have the two schools meet once again. Take it for what it is at this point, a slight mention on a BYU website, Deep Shades of Blue, but according to an anonymous source or sources within the BYU community there is a two or three game series being discussed between "Deep Shades of Blue has also learned that a similar series is in the works with Penn State," writes Brett Richins of Deep Shades of Blue. "According to sources close to the program, BYU has been able to leverage the long-time friendship between LaVell Edwards and Joe Paterno in order to rekindle their series from the early 1990′s." Penn State defeated Ty Detmer and #19 BYU in the 1989 Holiday Bowl, 50-39.
Rumor: Penn State, BYU working on future football series - Philadelphia Penn State Nittany Lions Football
Trouble Spot #6: BYU
UW football: BYU added for 2013 schedule : Sports
The University of Wisconsin finalized a home-and-home football series with Brigham Young, according to a UW source. BYU will play at Camp Randall Stadium in 2013. The source could not confirm what year the Badgers will travel to Provo, Utah. UW coach Bret Bielema tweeted on Wednesday, "Waiting on a signature to make 2013 final, and then we should be good to go." The only non-conference game for 2013 UW has announced is a road game against Arizona State. Massachusetts, which begins playing football in the Mid-American Conference this season, previously announced a game at UW on Aug. 31 to open the 2013 season.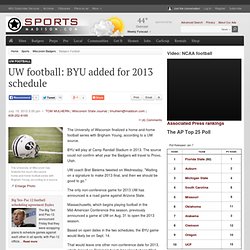 WeIdt.St.4
I'm so furious. I got a letter from BYU about my ecclesiastical endorsement. : exmormon
It reads: "Bishop [my bishop] has informed the Honor Code Office that your ecclesiastical endorsement may be withdrawn. Since university policy requires all students to have a current endorsement, we would then be required to place a hold on your registration until you are able ot qualify for a new one. Without a current endorsement you would not be able to eligible to attend daytime or evening classes, to register for other courses, to work for the university, participate in athletics, or to reside in BYU approved housing. Please contact bishop [my bishop] by June 29." I'm so sick of byu and all its fucking minions trying to control what I do.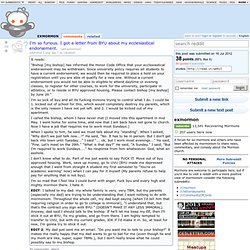 It's time for Provo to understand this message, and the only way to get the point across is preparing this post like a talk read over the pulpit at their local ward house. This "talk" will being and end just like any other "talk" you hear at your local 165th singles ward. The intent for this being written is that you UNDERSTAND why the University of Utah and Brigham Young University need to take a break and eventually end the series. I will begin. Good morning brothers and sisters, my name is Chris Bryant, I just moved into the ward two weeks ago, and we all know the drill..
Utah Edition: The Beginning of the end
Jabari will be a cougar - CougarBoard.com
Why BYU Fans Should Still Pay Attention to the MWC
The 2012 season will mark the second in which the Cougars will not play for a conference championship. BYU left the Mountain West Conference with four championships during their 12 years as members. During those years, BYU coaches, players and fans would take the time to watch conference foes because we had a horse in the race. Now that BYU is independent, there is no reason to pay attention to the MWC anymore… or is there? It is well-known that BYU will be playing in the Poinsettia Bowl in San Diego if they end up bowl eligible, barring an undefeated season that could send the Cougars to a more prestigious venue.
TornBySports
groupon
The term "horsepower" describes how powerful a car is based on how many horses helped assemble it in the factory. Use the key below to find out how much horsepower you need: 100 horsepower: Use this nearly powerless car to transport workers around a farm or tie a sled to it and pull your child around. 200 horsepower: This slightly better car could go to the grocery store, but it might get tired on the way and have to stop to rest. 300 horsepower: This medium-powerful car should be used for commuting to work and making people on bikes nervous. 400 horsepower: This car is strong enough to take a group of children to school if they are too mean and funny to ride the bus with regular kids.
Photo by byufans
Breaking the byu brain on the This year's top season absent an effective 11-2 time of year somewhere they can finalized 7-one throughout MWC play, and therefore required dwelling an extraordinary defeat In addition to Circumstance within your Sin city Bowl. Your Cougars final subsequent during the MWC for TCU last year, and will probably always be as soon as hoping to discover in the Horned Frogs this season. A Cougars have 18 rookies in the past to make the 12 months 2010. This may be a extremely fast introduction to how much the Cougars might possibly be this way yr, moreover my current questions on when that they accomplish the entire year while in the MWC.Violation:A new the offense might have to notice at a distance over to loan very beginning qb Potential Community hall this holiday season, together with battle seems as if good for you within contributor Paul Heaps or freshman Riley Nelson.
Yr Breaking the byu Football Predicts - These FORUMS ARE DISABLED!! OUR NEW FORUMS ARE AT http://androidforum.com/
BYU landing top Oregon football recruits - OregonLive.com
BYUfootblog's Photo: Just 1 year ago, Athlon Sports college football preview cover: Heaps, Moore, and Luck. #BYU #BSU #Stanford
National non-conference schedules: Syracuse, Michigan among 10 best - NCAA Football
Gonzaga reportedly lands 2013 center Ryan Edwards - The Slipper Still Fits
3-point shot: Duke's Hood likely 1-and-done - College Basketball Nation Blog
South Carolina Running Back Coming to Provo
No Guarantees: Inside the talks between BYU and the Big 12 in 2011 - Sports by Shoganai
Patina F400 BYU Fire Pit Sale for cheap | wood table base kits
Team Heads BYU Cougars Mascot Hat On Sale | Mascot Heads
BYU Bookstore - 2012 Official BYU Football Game Day Cotton Navy T-Shirt
Paying it forward
Cougazul : Just playing around with t
The Curious Case of Calvin Johnson Jr.
Broadcast Yourself
BYU Football, Basketball, and Recruiting
LES Scoreboard Update (Inside Pics)
The Holy War: What Really Matters?
This is weird - CougarBoard.com
Cougazul : Same with the North scoreb
Cougazul : Update on #BYU scoreboard.
BYU vs. Utah Football Final Play 2006
BYU Scoreboard Facelift Underway
Cougazul : My wife loves me. #byu htt
Cougazul : Update on LaVell Edwards S
BYU begins scoreboard demolition at LaVell Edwards Stadium : Utah News from the Daily Herald Newspaper
Best Photos From College Football Stadiums on Gameday | Sportige
BYU Part of Toughest Schedules in the Country
Top 10 list: Toughest schedules of 2012
Polish the Land Grant Trophy, Michigan State back on Penn State schedule in 2015 - Philadelphia Penn State Nittany Lions Football
Vanquish The Foe - For BYU Cougars Fans
Become Legendary - BYU Football Spring Scrimmage 2012
Home - BYUtv Sports
Rise and Shout, Cougazul's Out | Just another WordPress.com site
cougarstats
2011 BYU Cougars
BYU and Missions: Advantage or Obstacle?
BYU Hoops: Looking Ahead
CougarFan.com - BYU Football, BYU Basketball, BYU Sports
The Official Site of BYU Athletics | The Official Site of BYU Athletics
Cougar Board, Welcome BYU football and BYU sports fans. - CougarBoard.com
Jabari Parker in Utah | The R House