Windows/PC Customization
Welcome to the techPowerUp! Forums. Welcome to the . You are currently viewing our boards as a guest which gives you limited access to view most discussions, articles and access our other FREE features.
Forums - Nightly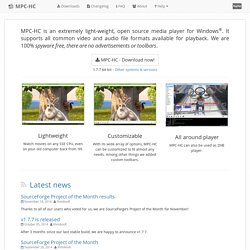 MPC-HC is an extremely light-weight, open source media player for Windows®. It supports all common video and audio file formats available for playback. We are 100% spyware free, there are no advertisements or toolbars. v1.7.3 is released This release is a bugfix release, fixing 2 annoying regressions in 1.7.2.
HoneyView - Nightly
foobar2000 is an advanced freeware audio player for the Windows platform. Latest news First, a big thank you to everyone who supported the foobar2000 mobile project so far. The foobar2000 mobile entry has been removed from kickstarter.com due to low popularity - only about 0.1% of the visitors actually supporting the project rather than the 1% we were hoping for; at this rate, donations made via kickstarter.com would never reach us as the lowest goal would not be hit. You can still support the project via our page directly - mobile.foobar2000.com. In case the lowest goal isn't met, we'll still try to deliver a product that satisfies all of those who did support us; just with fewer features than we were originally hoping to.
PS3 Media Server - Nightly
You can learn more about a program by hovering over it. Ninite installs apps for you in the background. No clicking next. We say NO to toolbars or other junk.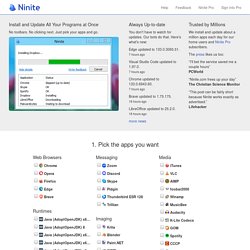 CCleaner Optimization and Cleaning CCleaner is the number-one tool for cleaning your Windows PC. It protects your privacy online and makes your computer faster and more secure. Easy to use and a small, fast download. Cleans all areas of your Computer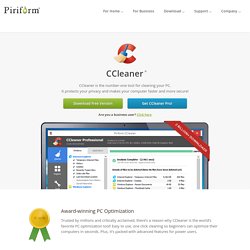 Downloading Dropbox - Simplify your life - Nightly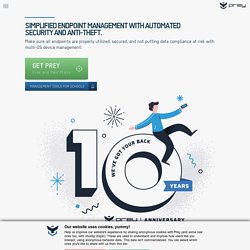 Silent but deadly Basically you install a tiny agent in your PC or phone, which silently waits for a remote signal to wake up and work its magic. This signal is sent either from the Internet or through an SMS message, and allows you to gather information regarding the device's location, hardware and network status, and optionally trigger specific actions on it. Next