Raising Capital
Moneymeeter - The Business Network for Entrepreneurs and Investors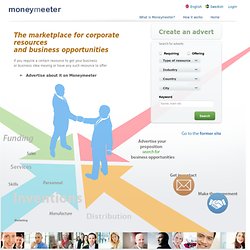 English Swedish Login The marketplace for corporate resources and business opportunities If you require a certain resource to get your business or business idea moving or have any such resource to offer Advertise about it on Moneymeeter Search for adverts
Launch Startup
Peer Lending Network is an online peer lending marketplace that connects people looking for a loan with real people willing to loan. Although Peer to peer lending is relatively new to the modern lending industry it is an old concept dating back centuries. However, with the advent of the internet, peer lending is now entering a new phase of interconnectivity. The internet has made the online marketplace a reality, and just as ebay revolutionized the retail industry, so too will peer to peer lending revolutionize the financing industry. Peer to peer lending is different from traditional lending transactions because it eliminates the intermediaries such as banks.
Peer Lending | Peer-Peer Lending | Peer To Peer Lending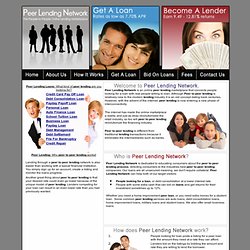 Lendit is currently unable to offer peer-to-peer lending services, after our launch we were issued a cease and desist order from the Securities Commission. The early loans have now been completed - the whole process worked as designed and we were very happy with the performance of the Lendit platform. The securities market in New Zealand is very sensitive and the associated legislation is being reviewed . We anticipate that new legislation will enable services like peer-to-peer lending to be licenced.
debt consolidation, loan, hire purchase, investment | Lendit
Online Peer to Peer Lending Community | CommunityLend
The Lending Club, LLC.
The Lending Club is a worldwide Broker specializing in arranging long term, commercial real estate loans. The Lending Club, through leading lenders are able to finance a wide variety of businesses that want, need, or already own real estate. The Lending Club also handles a wide variety of project types, including acquisition, debt refinancing, expansion, and new construction. Preferred projects include those in the range of $300,000 to $15,000,000 and owner and non-occupied properties, although these are not absolute requirements. The Lending Club specializes in offering attractive financing of: Up to 90% loan to value As little as 10% down Long terms of up to 25 years with no balloons or calls Competitive interest rates, including fixed rates
Here's your opportunity to learn the startup and expansion financing secrets of elite entrepreneurs such as those found on the annual Inc. 500 Fastest Growing Companies lists. Up until the second half of the 1990s, most people had never even heard of venture capital. Part of the reason for this is that they didn't need to know about it.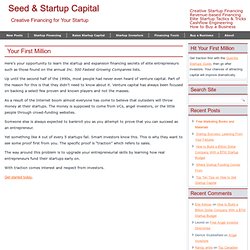 The Seed & Startup Capital Blog
Startup Nomads
WebBourse | Crowdfunding The Web.
Online Peer to Peer Lending Community | CommunityLend
Continuing my recent onslaught on articles about angel syndicates. (Last one before I go back to hibernation.) Here is my dream wish list for the ultimate angel investing vehicle. The Killer Angel Vehicle combines the best of institutional asset management with ease of shopping on Amazon. Let's have an instrument that delivers filtering, scale, governance, diversification, benchmarking, standard documentation, access, and actionable low cost passive indices. Oh yeah, and make it easy.
Vermont View on Startups | Ty Danco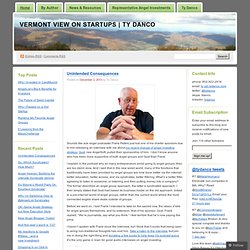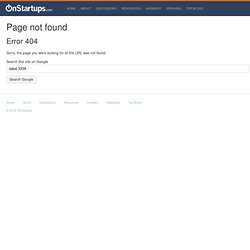 Corporate Development 101: What Every Startup Should Know The following is a guest post by Chris Sheehan. Chris is COO of TrueLens, an early stage startup in the social marketing space.
Peer to Peer lending | A smart way to borrow money | Peerform