Raising Capital
Moneymeeter - The Business Network for Entrepreneurs and Investors
Launch Startup
Peer Lending | Peer-Peer Lending | Peer To Peer Lending
debt consolidation, loan, hire purchase, investment | Lendit
Online Peer to Peer Lending Community | CommunityLend
The Lending Club, LLC.
The Lending Club is a worldwide Broker specializing in arranging long term, commercial real estate loans . The Lending Club, through leading lenders are able to finance a wide variety of businesses that want, need, or already own real estate .
Seed Capital Everyone wants it. Sometimes it can be provided by outsiders.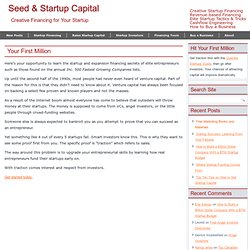 The Seed & Startup Capital Blog
Reseau Financier Francais - Entrepreneurs, Investisseurs, Financement des Entreprise et da Capital Risque
Startup Nomads
WebBourse | Crowdfunding The Web.
Online Peer to Peer Lending Community | CommunityLend
Vermont View on Startups | Ty Danco
Peer to Peer lending | A smart way to borrow money | Peerform