Raising Capital
Moneymeeter - The Business Network for Entrepreneurs and Investors
Launch Startup
Peer Lending | Peer-Peer Lending | Peer To Peer Lending
debt consolidation, loan, hire purchase, investment | Lendit
Online Peer to Peer Lending Community | CommunityLend
The Lending Club, LLC.
The Lending Club is a worldwide Broker specializing in arranging long term, commercial real estate loans. The Lending Club, through leading lenders are able to finance a wide variety of businesses that want, need, or already own real estate.
Here's your opportunity to learn the startup and expansion financing secrets of elite entrepreneurs such as those found on the annual Inc. 500 Fastest Growing Companies lists. Up until the second half of the 1990s, most people had never even heard of venture capital. Part of the reason for this is that they didn't need to know about it.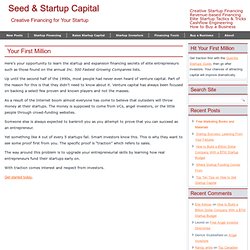 The Seed & Startup Capital Blog
Startup Nomads
WebBourse | Crowdfunding The Web.
Online Peer to Peer Lending Community | CommunityLend
Vermont View on Startups | Ty Danco
Peer to Peer lending | A smart way to borrow money | Peerform