Fashion
Get flash to fully experience Pearltrees
May 27th, 2012 Lace inserts are a popular denim DIY this summer. Usually done with white lace and light denim I wanted to mix it up and try it with black! Sources: (Top Left – Right) 1. Clones 'N' Clowns 2. Refinery29 3.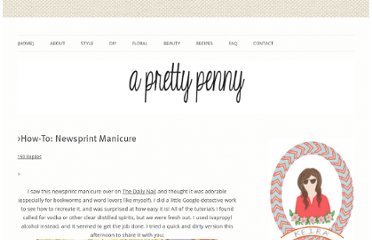 I saw this newsprint manicure over on The Daily Nail and thought it was adorable (especially for bookworms and word lovers like myself). I did a little Google detective work to see how to recreate it, and was surprised at how easy it is! All of the tutorials I found called for vodka or other clear distilled spirits, but we were fresh out. I used isopropyl alcohol instead, and it seemed to get the job done. I tried a quick and dirty version this afternoon to share it with you: Like this:
Login Sign up with Facebook Or login with your RetailMeNot account Or create a RetailMeNot account This is not a valid email address. You must enter an email address.
Lookmatic let me pick out a some new glasses, and asked that I create a couple of makeup looks to go with them. Since the Payton frames are so dark and thick, I wanted a bold lip to balance it out. But rather than going with my ubiquitous red or fuchsia, I went with a vampy bluish red. To give it a little more depth, I lined with a darker liner and blended it inward (blending is key), then added a dab of gold shadow to the center of my bottom lip. It's an easy way to give your lipstick a little extra oomph.