Blogs publicidad
Adweek. Puro Marketing, Diario Digital Líder de Marketing, Publicidad y Social media en Español. La publicidad de Wonderbra. Sr. Santana. Make the logo bigger. Shots.net - Home. ANidea – powered by the minds at AgencyNet. The Inspiration Room | Advertising creativity from around the world. Brainstorm9.
Fischer América. Space invaders. Rockvertising. PubliArtistas - Blog de Publicidad y Marketing. Publicidad. Marco Creativo - Blog de Publicidad Creativa Diseño Gráfico Web Alicante. La Colección TEN es un proyecto didáctico desarrollado por el banco de imágenes Fotolia.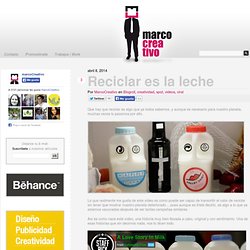 Durante todo 2013 se han compartido obras exclusivas de algunos de los mejores artistas digitales de todo el mundo, permitiendo descargar los archivos originales de manera que cualquier persona interesada pueda ver cómo han realizado sus creaciones, y aprender así sus secretos y técnicas. El concurso. Blog de Mercadotecnia, Publicidad & Creatividad: Briefblog. Ideacreativa blog | Blog publicidad, marketing, comunicación y una pizca de creatividad.
---