Consultant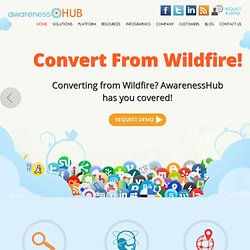 Prove the ROI of Social Marketing Recognized for its powerful and easy-to-use cloud-based software, AwarenessHub delivers a game-changing and comprehensive system to centrally manage all social media activities, all from a single platform. It's patent-pending technology drives social marketing ROI by allowing marketers to capture, cultivate and score leads from across the social web. For more information, click this image to get details on AwarenessHub: Key Components of the AwarenessHub Suite Include:
The Leader in Enterprise Social Media - Awareness Inc
Home / Virilion
RepEquity is an award-winning online brand management company specializing in search, social media, web and mobile development and analytics. RepEquity develops digital tools and programs to build and protect some of the largest brands in the sports, entertainment, finance, healthcare, advocacy and non-profit arenas. Meet the team, view some of our award-winning work and get in touch to find out what RepEquity can do for your brand.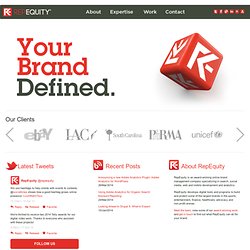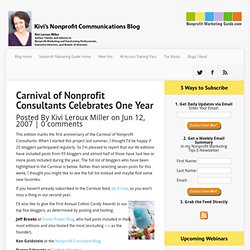 Carnival of Nonprofit Consultants Celebrates One Year
This edition marks the first anniversary of the Carnival of Nonprofit Consultants. When I started this project last summer, I thought I'd be happy if 20 bloggers participated regularly. So I'm pleased to report that our 46 editions have included posts from 93 bloggers and almost half of those have had two or more posts included during the year. The full list of bloggers who have been highlighted in the Carnival is below.
Robert L. Weiner Consulting: Strategic Technology Consulting for
Robert L. Weiner Consulting helps nonprofit and educational organizations make informed, strategic decisions about Advancement Services and the use of technology for fundraising. We Can Help You: Assess whether you have the right systems, supported by the right people, doing the right things.
We help ordinary people raise extraordinary amounts of money for causes they care about. FirstGiving is dedicated to one purpose: empowering passionate nonprofit supporters to raise more money than they ever thought possible for the causes they care about. We partner with nonprofit organizations to allow them to plan, execute, and measure successful online fundraising campaigns and charity fundraising events with our fundraising software. For individual fundraisers, we aim to make it easy, effective, and even fun to raise money online! Our simple, yet powerful tools, along with the fundraising tips and fundraising ideas on FirstGiving, allow nonprofits and their supporters to meet and exceed their goals of raising money for important causes, building awareness, and expanding the world of giving.
Firstgiving - Online fundraising for everybody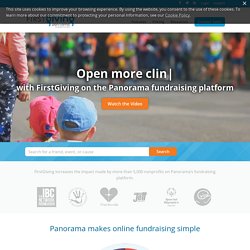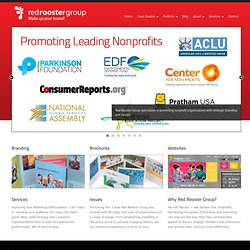 Improving Your Marketing Effectiveness Let's face it, reaching your audience isn't easy. You need great ideas, solid strategy and consistent implementation from a team of experienced professionals. We're here to help. Promoting Your Cause Red Rooster Group has worked with all types and sizes of organizations on a range of issues.
NonprofitDesign.org :: Sliding Scale Web Design and Consulting
The Alford Group
The Alford Group strengthens not-for-profits with proven solutions that are tailored to the unique circumstances of each client. With almost 35 years of experience, we understand the business of mission-based organizations and the challenges they face. Serving organizations with diverse missions, we provide the support necessary to achieve operational goals, enhance impact and assist in transformational growth.
At NPO Tech Support, we specialize in serving the needs of Non Profits and small business in the Kansas City area. We can help you in areas of: Server and PC build and maintenanceAll office functions including scanning, printing, and so on.backup systemsconsulting on phone systemsinternet securitycopiersinternet and phone serviceTechnology planningIf you have a question, please ask, chances are I know someone that can help.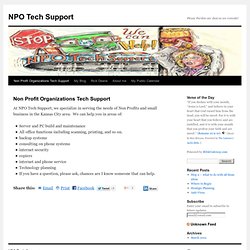 NPO Tech Support
Group
LLC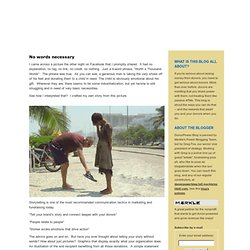 I came across a picture the other night on Facebook that I promptly shared. It had no explanation, no tag, no link, no credit, no nothing. Just a 4-word phrase, "Worth a Thousand Words". The phrase was true. As you can see, a generous man is taking the very shoes off of his feet and donating them to a child in need. The child is obviously emotional about his gift.
Donor Power Blog
RSStocracy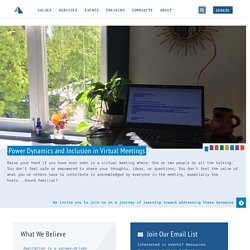 Aspiration Tech | Better Tools for a Better World
3 April, 2014 - 4 April, 2014 The 2014 California Nonprofit Technology Festival is happening April 3 and 4, 2014 in Los Angeles. Save the date for this participatory and community-driven two-day convening designed for nonprofit staff, grassroots and community organizers, social justice technologists, and those passionate about social change and technology.
The Evidence & Action programme helps rights advocates use information strategically and creatively in their campaigning. We aim to inspire innovative campaigns and provide practical support for collecting, investigating and curating evidence for advocacy. We do this through project partnerships, trainings and developing and distributing resources.
eRiders.net
買い物は好きだけどお金があるわけでもないしということであれば、ウィンドウショッピングを楽しみませんか。 やっている人が多いですし、気軽にデパートやファッションビルなどに行ってみましょう。 行ってみて、どうしてもいいなって思った商品があれば買えばいいだけのことです。 無理に何かを買わなくちゃいけないというわけでもありませんし、どんな商品があるのかを 散策するくらいの気持ちで楽しみましょう。 どうしても洋服だとかファッション関連の店に入ると、店員の目が気になってしまうという人もいるかもしれません。
December 02, 2007 Put Capital Campaign Videos Online The University of Rio Grande has put Capital Campaign videos online for their alumni to view. At the moment, they're showcasing three separate videos - one to bring about nostalgia in the viewers, one to explain how much money they hope to raise and what the funds will be used for, and one with alumni talking about their college experiences and encouraging others to contribute.
Wired Community Blog
ConsultantCommons.org | Sharing Tools for Nonprofit Technology S
Campbell Rinker - Marketing Research for the Nonprofit World