Consultant
The Leader in Enterprise Social Media - Awareness Inc. Home / Virilion. Carnival of Nonprofit Consultants Celebrates One Year. This edition marks the first anniversary of the Carnival of Nonprofit Consultants.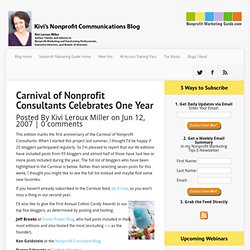 When I started this project last summer, I thought I'd be happy if 20 bloggers participated regularly. So I'm pleased to report that our 46 editions have included posts from 93 bloggers and almost half of those have had two or more posts included during the year. The full list of bloggers who have been highlighted in the Carnival is below. Robert L. Weiner Consulting: Strategic Technology Consulting for. Firstgiving - Online fundraising for everybody. NonprofitDesign.org :: Sliding Scale Web Design and Consulting. The Alford Group. NPO Tech Support. Group. LLC. Donor Power Blog. I came across a picture the other night on Facebook that I promptly shared.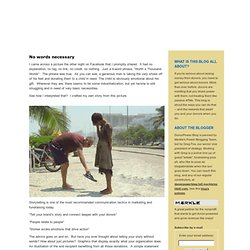 It had no explanation, no tag, no link, no credit, no nothing. Just a 4-word phrase, "Worth a Thousand Words". The phrase was true. As you can see, a generous man is taking the very shoes off of his feet and donating them to a child in need. The child is obviously emotional about his gift. RSStocracy. Aspiration Tech | Better Tools for a Better World.
Tactical Technology Collective. eRiders.net. Wired Community Blog. December 02, 2007 Put Capital Campaign Videos Online The University of Rio Grande has put Capital Campaign videos online for their alumni to view.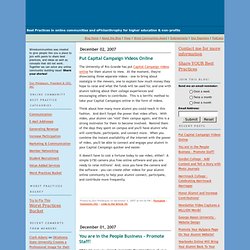 At the moment, they're showcasing three separate videos - one to bring about nostalgia in the viewers, one to explain how much money they hope to raise and what the funds will be used for, and one with alumni talking about their college experiences and encouraging others to contribute. ConsultantCommons.org | Sharing Tools for Nonprofit Technology S. Campbell Rinker - Marketing Research for the Nonprofit World.
---