Bestpractices
During yesterday's webinar on "Successful Nonprofit Websites: How to Make Your Website Work for You," I asked participants to rank their own websites on 8 of the 10 criteria we discussed. About 30 people participated, mostly from small nonprofits, producing some interesting results from their own evaluations of their websites. Only 11% said their email newsletter sign-up form appeared either within their site template (and thus on every page) or at least on all of the major pages of the site. Getting people to your website is the hard part. Don't let them just disappear back into cyberspace.
Where are the Problem Spots on Your Website's Home Page? >&gt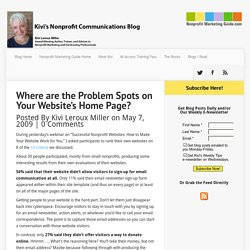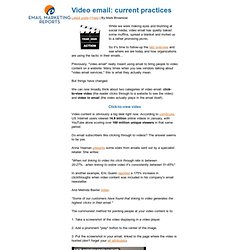 Latest posts | Feed | By Mark Brownlow While we were making eyes and blushing at social media, video email has quietly baked some muffins, spread a blanket and invited us to a rather promising picnic. So it's time to follow-up the last overview and see where we are today and how organizations are using the tactic in their emails...
Video email: current practices
Podcasting « Social Media University, Global (SMUG)
Mobile Web Best Practices 1.0
Become an Email Marketing Expert - the complete guide for web de