CSS
Speech bubbles are a popular effect but many tutorials rely on presentational HTML or JavaScript. This tutorial contains various forms of speech bubble effect created with CSS 2.1 and enhanced with CSS3. No images, no JavaScript and it can be applied to your existing semantic HTML.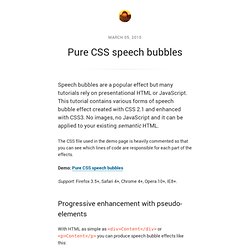 Pure CSS speech bubbles – Nicolas Gallagher – Blog & Ephemera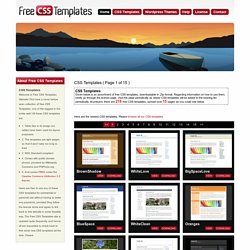 CSS Templates Welcome to Free CSS Templates Website! Find here a never before seen collection of free CSS Templates, one of the biggest in the entire web! All these CSS templates are: 1.
Vitaly Friedman's The Web Developer's Handbook creativity | css galleries & showcases | color tools | color schemes, palettes | color patterns | fashion: colors selection | color theory | royalty free photos | css daily reading | web design daily reading | css layouts | css navigation menus | css techniques | css: software & Firefox Extensions | css-web-tools & services |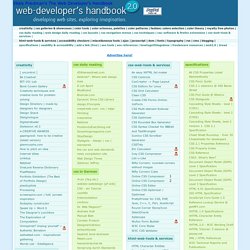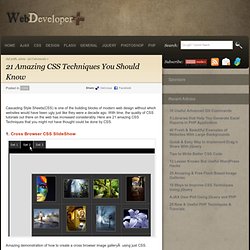 Cascading Style Sheets(CSS) is one of the building blocks of modern web design without which websites would have been ugly just like they were a decade ago. With time, the quality of CSS tutorials out there on the web has increased considerably. Here are 21 amazing CSS Techniques that you might not have thought could be done by CSS.