PAAAAAAASTAH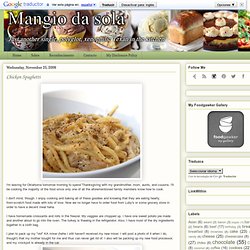 I'm leaving for Oklahoma tomorrow morning to spend Thanksgiving with my grandmother, mom, aunts, and cousins. I'll be cooking the majority of the food since only one of all the aforementioned family members know how to cook. I don't mind, though.
Chicken Spaghetti
Sweet Amandine: choosing your battles
Some things just aren't worth fighting over. And some things just are. Take, for example, that 80% off, last-in-stock, just-my-size dress. I'll arm wrestle you for it. And if I'm feeling particularly scrappy, I'll settle for nothing less than an all out tug of war over that last buttery sliver of almond tart.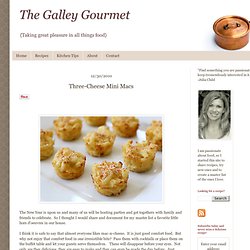 The New Year is upon us and many of us will be hosting parties and get togethers with family and friends to celebrate. So I thought I would share and document for my master list a favorite little hors d'oeuvres in our house. I think it is safe to say that almost everyone likes mac-n-cheese. It is just good comfort food. But why not enjoy that comfort food in one irresistible bite?
Three-Cheese Mini Macs
Macaroni and Cheese
Boxed mac and cheese is so finicky. It requires a multitiude of steps: (1) opening the box, (2) boiling the noodles, (3) tearing open a foil-lined pouch of powdered stuff, (4) adding butter and milk and stirring it all together until the fake cheese reaches the consistency of school glue. The Mac-and-Cheese-People have us somehow duped into thinking that this is the "easy" way of making this classic, beloved side dish. When, in actuality, real mac and cheese is so much easier.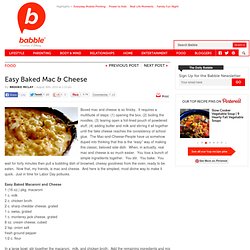 Baked Macaroni and Cheese: The Ultimate Labor Day Side Dish | The Family Kitchen
The winner of my comparison, Pioneer Woman's mac and cheese. I've always been a fan of macaroni and cheese – who isn't? Of course, most of my life that referred to the kind from a blue box.
Baked Mac and Cheese Comparison » Annie's Eats
Bacon Mac & Cheese Recipe
[donotprint] I'm smitten with Chef Michael Symon. Not because he is an Iron Chef, Food Network host, or owner of acclaimed restaurants – Lola and Lolita. I actually don't subscribe to cable so I've never watched him on TV.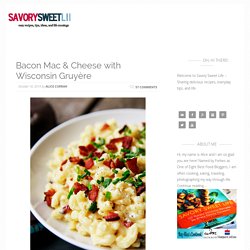 I can say this is the best macaroni and cheese recipe ever because it's not really my recipe. I tweaked it a tiny bit - basically made it even more fattening - but otherwise, it's someone else's. It's from someone named Bev, who posted her recipe on Recipezaar and to whom I am eternally grateful. See, macaroni and cheese is pretty much my all-time favorite food. Always has been. Cases in point: