Social
How To Build Your Tribe - Finding 'Your People' Email This is a guest post by Marelisa of Abundance Blog at Marelisa Online.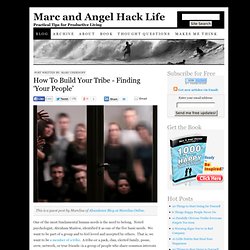 One of the most fundamental human needs is the need to belong. Noted psychologist, Abraham Maslow, identified it as one of the five basic needs. We want to be part of a group and to feel loved and accepted by others. That is, we want to be a member of a tribe. How To Treat Others: 5 Lessons From an Unknown Author. Five Lessons About How To Treat People -- Author Unknown 1.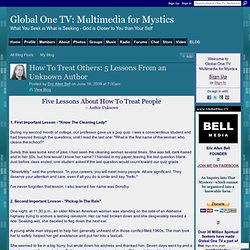 First Important Lesson - "Know The Cleaning Lady" During my second month of college, our professor gave us a pop quiz. Do Me A Favor So You'll Like Me: The Reverse Psychology of Likeability. Catch the twist in the title?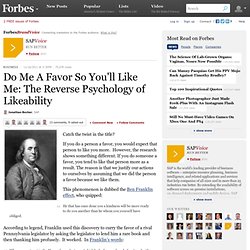 If you do a person a favor, you would expect that person to like you more. However, the research shows something different. If you do someone a favor, you tend to like that person more as a result. Get anyone to like you – Instantly – Guaranteed. Get anyone to like you - Instantly - Guaranteed If you want people to like you, make them feel good about themselves.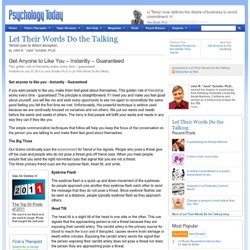 This golden rule of friendship works every time - guaranteed! The principle is straightforward. If I meet you and make you feel good about yourself, you will like me and seek every opportunity to see me again to reconstitute the same good feeling you felt the first time we met. How to Improve Conversation Skills - 7 Ways. Note: This is a guest post from Eduard Ezeanu of People Skills Decoded I believe that one of the best ways to connect with people and build quality relationships is through making conversation.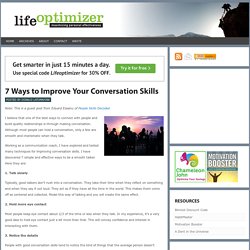 Although most people can hold a conversation, only a few are smooth and charismatic when they talk. Working as a communication coach, I have explored and tested many techniques for improving conversation skills. 10 Psychological Effects of Nonsexual Touch. Psychological research on how a simple (nonsexual) touch can increase compliance, helping behaviour, attraction, and signal power.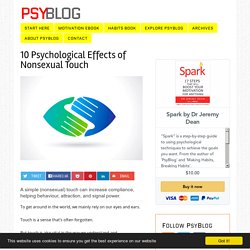 To get around in the world, we mainly rely on our eyes and ears. Touch is a sense that's often forgotten. But touch is also vital in the way we understand and experience the world. 21 Keys to Magnetic Likeability. Post written by: Marc Chernoff Email Your true potential is enhanced by the sum of all the people who like you, and thus would go out of their way to assist you in a time of need.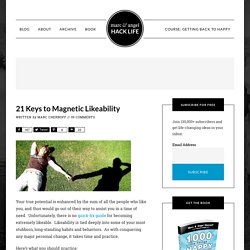 Unfortunately, there is no quick-fix guide. 28 Dignified Ways to Impress Everyone Around You. Post written by: Marc Chernoff Email Far more often than any of us like to admit, our actions are driven by an inner desire to impress other people.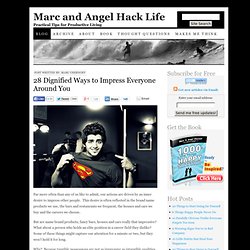 ---