Cooldaniel99
Daniel
I'm a 7th grader that loves art is very creative and love games
howtoknowgod.com: The Leading God Site on the Net
Culinary | Chef Classes at Chefworld.com
Wizard101 offers player Wizard games set in the magical Wizard school, Ravenwood Academy. Players of all ages set off on fun quests to save Wizard City from evil forces, and collect magic cards to duel their enemies in the game worlds. Explore magical game pets, new worlds and much more! Wizard101 opens a magical world of fun gameplay and adventure. Collect cool creatures to train in fun mini pet games, and win awesome game gear from tough boss battles. Wizards can learn spells, fight monsters, and make friends for free in the magic world of Wizard City!
Wizard Creator | Make Your Wizard and Play for Free!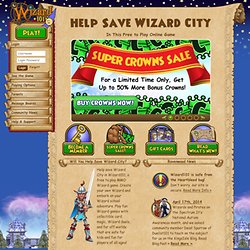 Disney's Pirates of the Caribbean Online
Avast there, mates! Pirates of the Caribbean Online is now closed. Thank you for making Pirates of the Caribbean Online a true treasure of excitement and adventure.