Programming
Get flash to fully experience Pearltrees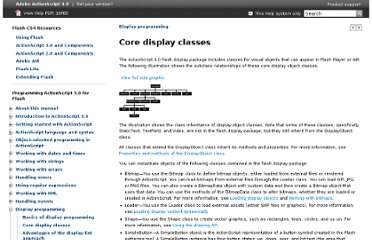 The ActionScript 3.0 flash.display package includes classes for visual objects that can appear in Flash Player or AIR. The following illustration shows the subclass relationships of these core display object classes.
The creation of listener functions is one area where the ActionScript 3.0 event model deviates from the DOM event model.
By default, instances of movie clip symbols in a Flash document's library cannot be dynamically created (that is, created using only ActionScript).
User interaction, whether by keyboard, mouse, camera, or a combination of these devices, is the foundation of interactivity.
The ActionScript ® 3.0 Reference for the Adobe ® Flash ® Platform contains the ActionScript language elements, core libraries, and component packages and classes for the tools, runtimes, services and servers in the Flash Platform. Filter by product using the preset filters