Secret Sauce
Incredible leaked alien footage
Discerning Alien Disinformation: Part 1 - Alien Agenda
Introduction In less than a decade, mankind will be confronted with undeniable public disclosure of the alien presence. The critical choices that follow will turn into tragic consequences if made in ignorance, confusion, weakness, or desperation. Therefore informed choices must be made to safeguard human freedom. This book is about acquiring discernment in handling future relations with alien forces by seeing and learning from their current methods of deception.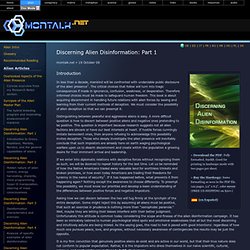 CIA and Secrets of Mind Control
According to the Central Intelligence Agency's Fact Book, the NSC (National Security Council) and the CIA were established under the provisions of the National Security Act of 1947. In December 1947, the NSC held its first meeting. James Forrestal, the Secretary of Defense, pushed for the CIA to begin a 'secret war' against the Soviets.
HiddenMysteries Information Central
sfs/sfs.pdf
tsm/tsm.pdf
play/PLAYTHINGS_S.pdf
USNS7 SELECTION
TEXT
Operation Mind Control - pdf - MCRAIS
www.whale.to/b/Operation_Mind_Control_-_Walter_Bowart.pdf
OSS -- Development of Psychological Warfare
OSS -- Development of Psychological Warfare
OSS -- Development of Psychological Warfare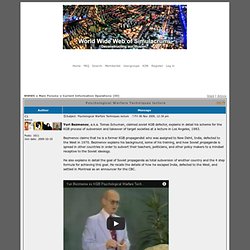 Psychological Warfare Techniques lecture
http://www.henrymakow.com/yuri_bezmenov_-too_important_t.html A new piece on Yuri Bezmenov By Toby Moreland In a 1980's interview with G. Edward Griffin, Yuri Bezmenov, KGB defector and expert in propaganda, said the subversion methods employed in the U.S. by the KGB were designed to "change the perception of reality of every American to such an extent that - despite the abundance of information - no one is able to come to sensible conclusions in the interest of defending themselves, their families, their community, and their country." This multi-stage process requires media complicity/mediocrity, control of educational policy, widespread corruption in politics and industry, and the unlimited money/credit of the international bankers who funded and controlled the USSR.
OSS -- Development of Psychological Warfare
OSS -- Development of Psychological Warfare
blackmovies8june1943.jpg (802×1109)
Past Recipients Doublespeak Award