News
Village Voice
Daily Kos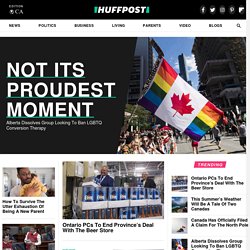 Huffington Post
Ramune Golysenkiene via Getty Images I've been tweezing, shaving, moisturizing, defrizzing, flat-ironing, bikini-waxing, gym-joining (notice I said gym-joining, not gym-going?) exfoliating and manicuring since 8th grade, all while sleeping on a silk pillowcase to reduce wrinkles.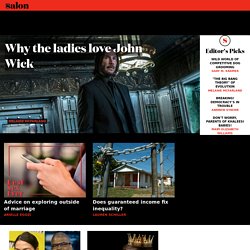 Up close at the Egyptian revolution Jehane Noujaim's thrilling Oscar nominee "The Square" stays on the Cairo streets through two revolutions Andrew O'Hehir Friday, Jan 17, 2014 12:00 AM UTC Entertainment Movies, Documentaries, Our Picks "SNL" finalist on audition: "It was such a historic moment" Simone Shepherd tells Salon about her experience auditioning for Lorne Michaels
Salon.com
N. Korea slams hawkish 'militarist maniac' Japanese Prime Minister Shinzo Abe North Korea on Sunday lashed out at Japan's hawkish prime minister for seeking to revise Tokyo's pacifist post-World War II…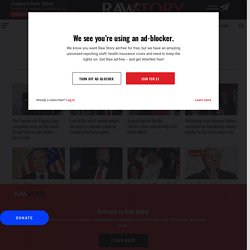 The Raw Story
Talking Points Memo
Looks like we're on track for one of the New Jersey senators investigating the bridge scandal to himself be a fact witness. Awesome ... TPM's Sahil Kapur reviews the forthcoming documentary on Mitt Romney that's getting so much buzz. TPMCafe: MTV Prevents Teen Pregnancy By Shaming Single Moms Father accidentally shoots child while cleaning his gun. Putin says gay people at the Olympics must leave the children alone.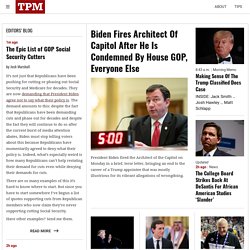 Paul Joseph Watson Prison Planet.com Friday, November 14, 2008 Neel Kashkari, the fox appointed to guard the henhouse and front the multi-trillion dollar bailout, faced angry questions from Dennis Kucinich and Rep. Darrell Issa during a hearing today, as Issa accused him of playing a "bait and switch" game with taxpayers' money. All the major networks carried footage of the U.S.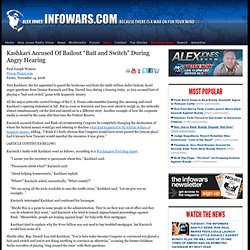 Alex Jones' Infowars
LiberalOasis
MSNBC Live: Putin's $50 Billion Bust listed in Media Appearances MSNBC Live: No, Washington Is Not Broken listed in Media Appearances My latest attempt to convince the world that stuff can and does get done in Washington. MSNBC's Thomas Roberts: Can de Blasio Change NYC? listed in Media Appearances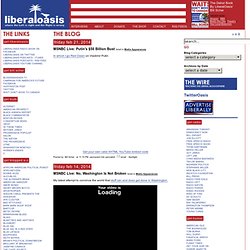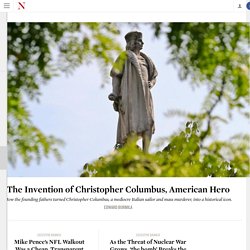 The Nation
The bill now being pushed by the neocons and AIPAC could destroy the most promising developments in a decade. He's not the only Republican governor who has abused his office to destroy political enemies. Oh, how we love those Republican "straight-shooters." Ten groups that are laying the foundation for an economic justice revival.
MoveOn.Org
Mother Jones
Washington Post
The New York Times
François Sinzikiramuka, perpetrator (left); Christophe Karorero, survivor. Jean Pierre Karenzi, perpetrator (left); Viviane Nyiramana, survivor. Godefroid Mudaheranwa, perpetrator (left); Evasta Mukanyandwi, survivor. Juvenal Nzabamwita, perpetrator (right); Cansilde Kampundu, survivor. Deogratias Habyarimana, perpetrator (right); Cesarie Mukabutera, survivor. François Ntambara, perpetrator (left); Epiphanie Mukamusoni, survivor.
The Atlantic
The Atlantic Follow Us Video Let's Get Physical: A 1950s Guide to Hooking Up Watch Music Bring Back Memories for Alzheimer's Patients How songs can help people whose minds are deteriorating Olga Khazan 4 Hunting Licenses—to Shoot Drones A new age of uncharted legal territory in low-level airspace Rebecca J.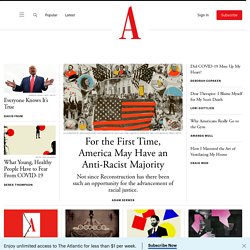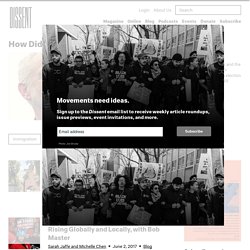 Kapital for the Twenty-First Century? Thomas Piketty's Capital in the Twenty-First Century is a weighty book, replete with good information on the flows of income, transfers of wealth, and the distribution of financial resources in some of the world's wealthiest countries. But it is not a very sound guide to policy.
Dissent Magazine
Home
Slate Magazine
Seeds of a movement: A 21st century Populist renewal is flourishing at America's grassroots WHAT POPULISM IS NOT: An empty word for lazy reporters to attach to any angry spasm of popular discontent. (And it's damn sure not Sarah Palin and today's clique of Koch-funded, corporate-hugging, tea party Republicans.) WHAT IT IS: For some 238 years, it has been the chief political impulse in America's body politick--determinedly democratic, vigilantly resistant to the oppressive power of corporations and Wall Street, committed to grassroots percolate-up economics, and firmly rooted in my old Daddy's concept of "Everybodyness," recognizing that we're all in this together. [read more] Donate today to theHightower Lowdown!
Home
Free Speech TV
Michael Moore's Blogs
Bank-Run Fears Continue; HSBC Restricts Large Cash Withdrawals... BLAIR: Extremist religion is at root of 21st-century wars... Will Richard Branson's space tourist ever take off? Stephen Hawking: 'There are no black holes'... SWEET '16: Iowa Readies For Hillary -- Again... UPDATE: Woman jumps to her death from roof of Beverly Hills plastic surgery clinic...
DRUDGE REPORT 2012®