News
Village Voice
Daily Kos
Huffington Post
Salon.com
The Raw Story
Talking Points Memo
Paul Joseph Watson Prison Planet.com Friday, November 14, 2008 Neel Kashkari, the fox appointed to guard the henhouse and front the multi-trillion dollar bailout, faced angry questions from Dennis Kucinich and Rep. Darrell Issa during a hearing today, as Issa accused him of playing a "bait and switch" game with taxpayers' money. All the major networks carried footage of the U.S.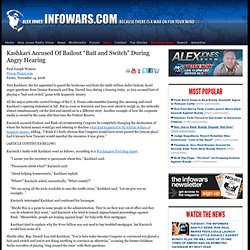 Alex Jones' Infowars
LiberalOasis
The Nation
MoveOn.Org
Mother Jones
Washington Post
The New York Times
The Atlantic
Dissent Magazine
Home
Slate Magazine
Home
Free Speech TV
Michael Moore's Blogs
Michael Hirsh Aims at Edward Snowden, Accidentally Blows Off Own Leg ...by Jon Schwarz michaelmoore.com One of the most surprising things about members of the... Jan 6th12:59 PMRead More I Was An NFL Player Until I Was Fired By Two Cowards And A Bigot deadspin.com Hello. My name is Chris Kluwe, and for eight years I was the punter for the...
DRUDGE REPORT 2012®