Bloomstaxonomy
Try Respondo! → ← Back to Byrdseed.com The Differentiator
Docs/wheel.pdf
How Challenging? Using Bloom's Taxonomy To Assess Learning Objectives In A Degree Completion Program | Horner | Journal of College Teaching & Learning (TLC)
The PDF file you selected should load here if your Web browser has a PDF reader plug-in installed (for example, a recent version of Adobe Acrobat Reader). Alternatively, you can also download the PDF file directly to your computer, from where it can be opened using a PDF reader. To download the PDF, click the Download link below. If you would like more information about how to print, save, and work with PDFs, Highwire Press provides a helpful Frequently Asked Questions about PDFs.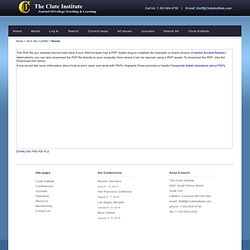 Emerging Perspectives
A revision of Blooms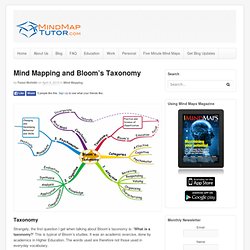 Taxonomy Strangely, the first question I get when talking about Bloom's taxonomy is: 'What is a taxonomy?' This is typical of Bloom's studies.
Mind Mapping and Bloom's Taxonomy
Um-bloom-ra Bloom's Taxonomy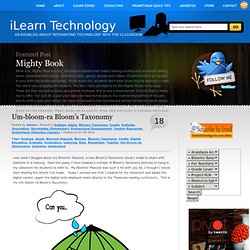 Last week I blogged about my Bloomin' Peacock, a new Bloom's Taxonomy visual I made to share with teachers in a training. Over the years, I have created a number of Bloom's Taxonomy pictures to hang in my classroom for students to refer to. My Bloomin' Peacock was such a hit with you all, I thought I would start sharing the others I've made. Today I revived one that I created for my classroom and added the digital version (again the digital tools displayed relate directly to the Treasures reading curriculum). This is my Um-bloom-ra Bloom's Taxonomy: …and the digital version:
So much have been written about Bloom's taxonomy; one click in a search engine will flood your page with hundreds of articles all of which revolve around this taxonomy. Only few are those who have tried to customize it to fit in the 21st century educational paradigm. As a fan of Bloom's pedagogy and being a classroom practitioner, I always look for new ways to improve my learning and teaching, and honestly speaking , if you are a teacher/ educator and still do not understand Bloom's taxonomy then you are missing out on a great educational resource.
The 21st Century Version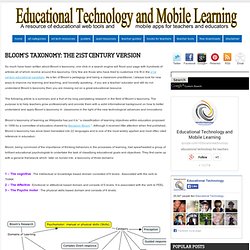 Bloom's Digital Taxonomy
Blooms Taxonomy Tutorial FLASH - CCCS Faculty Wiki
Blooms Digital Taxonomy v2.12