18_05
method : method ocean plastic
12 is Everywhere
Shapeways
Ben Giles Collages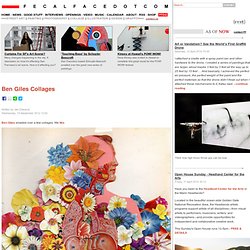 Now that photographs of this year's Art Basel Miami are finally working their way out of everyone's Instagram feeds, it's worth revisiting Simon Doonan's takedown of the modern art world. First published in 2012, it explains why Doonan skipped Miami that year—and what's wrong with art today. --- Freud said the goals of the artist are fame, money, and beautiful lovers. Based on my artist acquaintances, I would say this holds true today.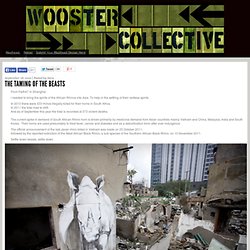 The Taming of the Beasts
From Faith47 in Shanghai: I needed to bring the spirits of the African Rhinos into Asia. To help in the settling of their restless spirits. In 2010 there were 333 rhinos illegally killed for their horns in South Africa. In 2011 the total rose to 448.
L'association allemande BUND milite pour la défense des arbres. Pour ce faire, l'agence Proximity BBDO Germany a eu l'idée de réaliser une dispositif inédit alliant harmonieusement nature et musique. Ils ont sélectionné un immense marronnier du Monbijoupark de Berlin et ont installé à sa base une structure composée de membranes polymères. Tous les marrons tombés de l'arbre la percute, créant automatiquement un jeu de son et lumière. Cette installation poétique permet donc de générer naturellement de la musique, et célèbre cet arbre qui incarne la résistance de tous ses congénères en milieu urbain.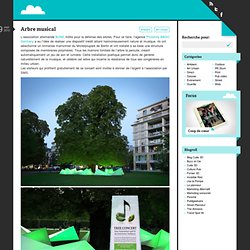 Arbre musical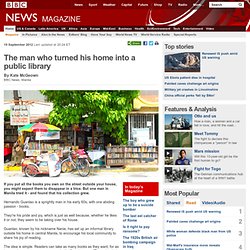 The man who turned his home into a public library
19 September 2012Last updated at 20:24 ET By Kate McGeown BBC News, Manila If you put all the books you own on the street outside your house, you might expect them to disappear in a trice. But one man in Manila tried it - and found that his collection grew. Hernando Guanlao is a sprightly man in his early 60s, with one abiding passion - books. They're his pride and joy, which is just as well because, whether he likes it or not, they seem to be taking over his house. Guanlao, known by his nickname Nanie, has set up an informal library outside his home in central Manila, to encourage his local community to share his joy of reading.
18 September 2012Last updated at 22:21 ET By Lynsea Garrison BBC News, Kenai Peninsula, Alaska Subsistence fisherman Michael Winter collects a king salmon caught in his fishing wheel in Chitina, Alaska, before releasing it back to the Copper River When the number of king salmon running in Crooked Creek's river declined dramatically, the mostly native Alaskan villagers were left wondering where they could find enough food to last the winter. Crooked Creek has no big-box grocery stores or roads to other towns. But in good times, the Kuskokwim River promises king salmon to the villages along its 702 miles (1,130km). But good times are fading into memory for villagers like Evelyn Thomas, who has lived in Crooked Creek her entire life.
Alaska and the mysterious disappearing king salmon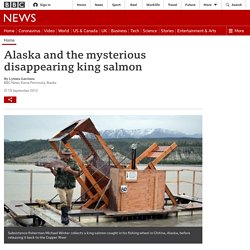 Vampire Dog Might Be the Biggest Missed Opportunity in Movie History
Injured bald eagle gets new 3-D printed beak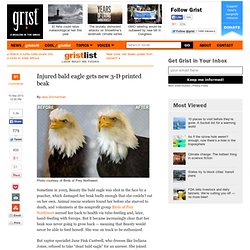 Photo courtesy of Birds of Prey Northwest. Sometime in 2005, Beauty the bald eagle was shot in the face by a poacher, which damaged her beak badly enough that she couldn't eat on her own. Animal rescue workers found her before she starved to death, and volunteers at the nonprofit group Birds of Prey Northwest nursed her back to health via tube-feeding and, later, hand-feeding with forceps. But it became increasingly clear that her beak was never going to grow back — meaning that Beauty would never be able to feed herself.
100 Wild Huts
Co-operative Businesses Are Booming in Tough Times - Business
Bespoke Devices: London Workshops Demystify The Guts of Personal Technology - Technology
Many of us born in the '70s grew up with these Fisher-Price Record Players, which used plastic discs to play music-box-sounding analog music. I was surprised to see they had recently been re-released—and disappointed to learn the new ones aren't the same as the old, but instead play the music electronically. Earlier this year a UK-based tinkerer named Fred Murphy got his hands on some of the original units—you'll see them pop up on eBay now and then—and decided to make his own records.
3D Printing Plastic Fisher-Price Records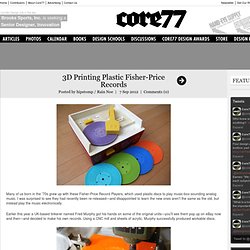 Lorenzo Durán - Naturayarte
NOTCOT.ORG
NOTCOT.ORG
Backyard Brains » Insane in the Chromatophores
Ocean Health Index
Mosaics Created from Thousands of Hand-Cast Resin Flowers and Candy
What Remains, 35,000+ hand cast urethane flowers What Remains, detail A Rose By Any Other Name, 15,000+ individually hand cast urethane pieces of candy, 75 pounds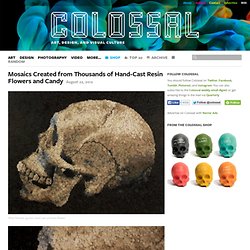 Japan: record high radiation levels found in Fukushima fish, more than a year after nuclear accident
Tokyo Electric Power Company (TEPCO) in Japan said Tuesday its monitoring efforts have recorded record high radiation levels in local seafood: 25,800 becquerels per kilogram of radioactive cesium in fish sampled within a 20-kilometer range of the Fukushima Daiichi nuclear power plant. The photo shows fish caught Aug. 1, 2012 within 20 kilometers of the crippled nuclear power plant. The findings indicate that radioactive contamination remains at unsafe levels in the area's food supply more than a year after the nuclear crisis.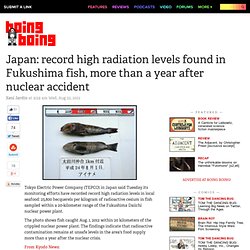 NOTCOT.ORG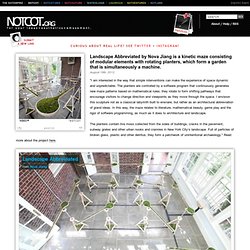 Landscape Abbreviated by Nova Jiang is a kinetic maze consisting of modular elements with rotating planters, which form a garden that is simultaneously a machine. August 18th, 2012 "I am interested in the way that simple interventions can make the experience of space dynamic and unpredictable. The planters are controlled by a software program that continuously generates new maze patterns based on mathematical rules; they rotate to form shifting pathways that encourage visitors to change direction and viewpoints as they move through the space. I envision this sculpture not as a classical labyrinth built to ensnare, but rather as an architectural abbreviation of grand ideas.
*notcot in design , 13:40 Realitat's Microsonic Landscapes are "an algorithmic exploration of the music we love. Each album's soundwave proposes a new spatial and unique journey by transforming sound into matter/space: the hidden into something visible." According to Creative Applications it is created with Processing and printed with Makerbot. Each object represents an album, but it's unclear to me how tracks are represented… perhaps each ring? or does it all just spiral flow together to the center?
Realitat - Microsonic Landscapes
Short on space but hankering for some fresh vegetables? The $70,000 Agri-Cube might be the answer to your problems. Developed by Japan's Daiwa House Industry, the parking-space-sized cube can grow leafy greens and root vegetables like turnips and radishes. The self-contained system comes with a water recycling system and adjustable fluorescent lighting (instead of sunlight) to nourish the plants. Under the right conditions, the cube can grow up to 10,000 heads of lettuce per year--all for approximately 45 cents a vegetable, when electricity costs are taken into account, according DigInfo. The Agri-Cube's high price tag gives it limited appeal to the average consumer, but we imagine that restaurants might be big customers, especially since certain restaurants are already experimenting with rooftop hydroponic farming.
1 | A Vegetable-Growing Factory That Fits In A Parking Space
Could the solution to increasing suicide and depression rates among members of the U.S. military lie in a nasal spray? The Army hopes so. In the midst of a crisis that saw its highest rate of suicide in July, the Army has greenlighted a grant for Dr. Michael Kubek, an Indiana University of Medicine professor, to dig deeper into whether a nasal spray could be a safe and effective way to administer a specific antidepressive neurochemical to the brain and help calm suicidal thoughts. The Army counted 38 confirmed or suspected suicides in July, a tally that took into account both active- and non-active-duty members of the Army National Guard or Reserve.
Can nasal spray help prevent military suicides?
miso : tokyo from memory
With armory-sized ambitions, riffs of Archigram and Peter Cook, and a penchant for Japanese joinery, Huy Bui and Jon Schamm of HB Collaborative, together with Carlos J. Gómez de Llarena of med44, explore smart infrastructure for a city's silent sentient beings.
Q&A: HB Collaborative, Makers of 'Plant-In City'
Designer Hideyuki Kumagai must be a fan of the autumn since he has come up with the best way to tell the temperature we've ever seen. The Leaf looks exactly like its name suggests but it's far more than just a bit of foliage. It's a thermometer!
Leaf Thermometer paper temperature reader
The Soviet synthesizer that bridged occultism and electronic music
Evolution could generate new semiconducting structures - physics-math - 26 June 2012
How presidential elections are impacted by a 100 million year old coastline
DryBath: How to Take a Shower Without Using Any Water
Google Wants to Protect 3,000 Endangered Languages - Technology
A Canopy of Man-Made Solar-Powered Supertrees Flourishes in Singapore - Design
The man who made his own toaster
Video software to "see" someone's pulse
Raphael Kim's Rotifer Farm
Origami « Kumi Yamashita
1 | No T-Squares: Robot Arms Are The New Thing In Architecture School
Jim Rugg
Watercolor animation of Blade Runner
The Parks of the World
Whoa: check out this preview page from Ian...
Cosey Fanni Tutti's music piece "inspired and made possible" by Xeni's treatment for cancer
The Breathless Zoo
Future - Science & Environment - Global resources stock check
Audio slideshow: A tale of two Ethiopian women fighting hunger
NOTCOT.ORG
Daily Pictures: Money / War Posters by Graziano Losa
The Times of Oman: Latest News Oman, World & Business News, Sports & Movies!
Toilet paper with a horror story from the author of "Ring"
Confessions of a Non–Serial Killer - Michael O'Hare
Space vehicles, to scale
Homebuildlife: Icecream Parlour by Ploenpit Nittaramorn
One Duck : Monique Habraken
NOTCOT.ORG
"From Spark to Finish": In Basel, Design Miami/'s Designers of the Future Unveil Illuminating Inventions
In pictures: Colombia's indigenous games
Shanghai dance hall evokes vanished era of glamour
unnamed pearl
Gavin Rothery - Directing - Concept - VFX - Gavin Rothery Blog - Eddie Powell - Alien Stunt Performer
Spanish Snow White is Sumptuous Surreal Gothic
Crazy Isn't A Destination: Minds Aren't Lost
Children with older fathers and grandfathers 'live longer'
Joseph Rodriguez: Portraits from Another America
Texel, Netherlands: An island where science and culture meet
Artist Berndnaut Smilde creates indoor clouds - The Style Blog
International - Max Fisher - Welcome to America, Please Be On Time: What Guide Books Tell Foreign Visitors to the U.S.
NYT-"MEN invented the internet"
SOLAR FLOATING RESORT
Open-source human genomes
How Math Can Help Save a Dying Language | Math
Bookyard- An Expansive Outdoor Public Library by Massimo Bartolini
Dreaminthewood
NOTCOT.ORG
No globes
The Family on the Behance Network
NOTCOT.ORG
Bluefin tuna record Fukushima radioactivity
A New Way to Keep Deep-Sea Creatures Alive at the Surface
Tim Burton Caketrope by Alexandre Dubosc
Ballerina by Banksy
Banksy Does Origami
le plan
Archaeologists unearth 1000 year-old tomb in Peru
David Letellier
Atlas for The Blind 1837
Cement bleak - Isaac Cordal
Documenting China's lost history of famine
Energy is more than sources; energy is systems
A Matter of Taste
Does Eating Organic Food Actually Make You a Haughty Jerk?
The Wisdom of Slime
Slime computes freeways systems
Raising money to free classic volume on Africa's oral literature
Little Free Library can help put a library on your corner