Online toys
Dropping Digital Knowledge
If you've found your way here, you're likely a masters candidate at Northwestern's Medill School of Journalism. Or, you could be an unlucky victim of clever SEO tricks. Or you could be my mom. Either way, this site is meant as a class tool for digital storytelling at Medill. You're free to poke around if you don't take class here. No guarantees to customer satisfaction.
Video - Using Flubaroo to Grade Quizzes
Blended
Edcanvas - The one place for teachers to create and deliver lessons digitally
Looking for the best cloud computing software for your school? What about a way to remotely store homework and other assignments? It's time to figure out which web 2.0 tool is right for you! The following presentation contains dozens of the most popular tools being used in classrooms right now. In fact, I've personally used more than 90% of these tools in higher education. They're useful, most are free (some are freemium), and true time-savers.
Wordle is a toy for generating "word clouds" from text that you provide. The clouds give greater prominence to words that appear more frequently in the source text. You can tweak your clouds with different fonts, layouts, and color schemes. The images you create with Wordle are yours to use however you like.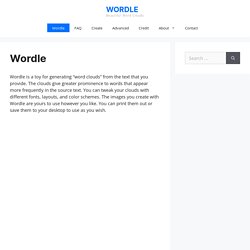 How do you feel about mathematics? Love or hate it? Intrigued by it? Scared of it? You certainly won't be bored by it in this pathway: requiring no previous knowledge of maths, this is a beginner's guide with hidden challenges for the more advanced. It shows mathematics is used to answer life's trickier problems, from what time of day it is to how to save the planet.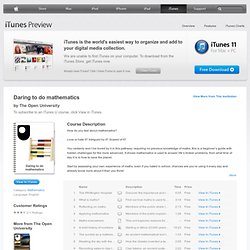 Daring to do mathematics - Download Free Content from The Open University on iTunes
The Super Book of Web Tools for Educators The Super Book of Web Tools for Educators A comprehensive introduction to using technology in all K-12 classrooms. There are teachers around the world who want to use technology in their classrooms, but they're just not sure where to start. That's why eleven prominent bloggers, teachers, and school administrators got together to create this free ebook. Introduction: pages 2-3 An Administrator's View: pages 4-7 Elementary School: pages 8-25 Middle School: pages 26-35 High School: pages 36-42 ESL/ELL: pages 43-46 Teaching Online: pages 47-50 Connect Via Skype: pages 51-61 Elementary School Blogging: pages 62-65 Alternative Ed Tech: pages 66-68 Social Media for Educators: pages 69-71
Tagxedo turns words -- famous speeches, news articles, slogans and themes, even your love letters -- into a visually stunning word cloud, words individually sized appropriately to highlight the frequencies of occurrence within the body of text. Create Shop Learn Gallery The following are a few examples to show the versatility of Tagxedo, especially how tightly the words hug the shapes. Feel free to click the pictures and play with them in Tagxedo. If you like these word clouds, you must also check out the Tagxedo Facebook page which has many more candies for your eyes, and read about the 101 Ways to Use Tagxedo. Now...