Online toys
Dropping Digital Knowledge. Video - Using Flubaroo to Grade Quizzes. Blended. Edcanvas - The one place for teachers to create and deliver lessons digitally. The 30 Best Web 2.0 Tools For Teachers (2012 Edition) Looking for the best cloud computing software for your school?
What about a way to remotely store homework and other assignments? It's time to figure out which web 2.0 tool is right for you! The following presentation contains dozens of the most popular tools being used in classrooms right now. In fact, I've personally used more than 90% of these tools in higher education. They're useful, most are free (some are freemium), and true time-savers. K-12 Education & Learning Innovations with Proven Strategies that Work | Edutopia. Wordle - Beautiful Word Clouds. Daring to do mathematics - Download Free Content from The Open University.
How do you feel about mathematics?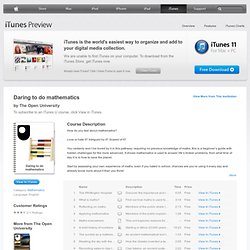 Love or hate it? Intrigued by it? Scared of it? You certainly won't be bored by it in this pathway: requiring no previous knowledge of maths, this is a beginner's guide with hidden challenges for the more advanced. It shows mathematics is used to answer life's trickier problems, from what time of day it is to how to save the planet. Educational Videos | Teacher Videos for Students | SnagLearning. Diigo - Web Highlighter and Sticky Notes, Online Bookmarking and Annotation, Personal Learning Network.
Synchtube - Enjoy synchronized Videos With Friends. Useful Handcrafted Videos | Common Craft. The Super Book of Web Tools for Educators. The Super Book of Web Tools for Educators A comprehensive introduction to using technology in all K-12 classrooms. There are teachers around the world who want to use technology in their classrooms, but they're just not sure where to start. That's why eleven prominent bloggers, teachers, and school administrators got together to create this free ebook. Introduction: pages 2-3 An Administrator's View: pages 4-7 Elementary School: pages 8-25 Middle School: pages 26-35 High School: pages 36-42 ESL/ELL: pages 43-46 Teaching Online: pages 47-50 Connect Via Skype: pages 51-61 Elementary School Blogging: pages 62-65 Alternative Ed Tech: pages 66-68 Social Media for Educators: pages 69-71.
The Super Book of Web Tools for Educators. Tagxedo - Word Cloud with Styles.
---