Sides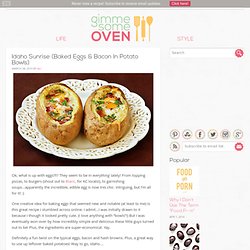 Ok, what is up with eggs?!!? They seem to be in everything lately! From topping pizzas, to burgers (shout out to Blanc , for KC locals!), to garnishing soups…apparently the incredible, edible egg is now tres chic. Intriguing, but I'm all for it!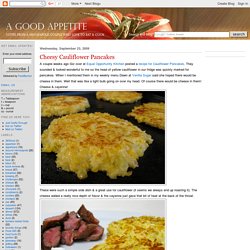 A couple weeks ago Giz over at Equal Opportunity Kitchen posted a recipe for Cauliflower Pancakes . They sounded & looked wonderful to me so the head of yellow cauliflower in our fridge was quickly marked for pancakes. When I mentioned them in my weekly menu Dawn at Vanilla Sugar said she hoped there would be cheese in them. Well that was like a light bulb going on over my head. Of course there would be cheese in them!
Had a bunch of cabbage in the fridge that was begging to be used, so what better that coleslaw! Wanted to add some apples to it, but unfortunately I didn't have any of those, but by all means, if you do, throw some in! 1/2 head cabbage, shredded 1/2 carrot, shredded finely 1/4 cup apple cider vinegar 1/4 cup mayonnaise 3 green onions, sliced 1 teaspoon cracked pepper 1/2 teaspoon sea salt 1/4 cup sunflower seeds 1. Combine all ingredients and mix well.
Crunchy Coleslaw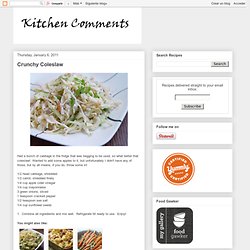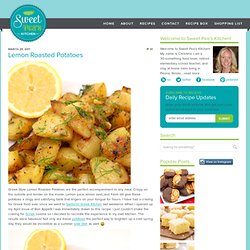 Lemon Roasted Potatoes
Lemon Roasted Potatoes Greek Style Lemon Roasted Potatoes are the perfect accompaniment to any meal. Crispy on the outside and tender on the inside.
There are some things that just seem too daunting to make from scratch, and far easier to order in: potstickers, if you haven't made them yourself, can be one of those things. The truth is, they're far simpler to make from scratch than you might think. And if you have little fingers around that need occupying, they will most likely be happy to sit around the kitchen table for an hour and assemble little dumplings that you can then cook on the stovetop until golden-bottomed and crisp, or freeze in zip-lock bags to pop into simmering chicken stock with noodles for a quick wonton soup.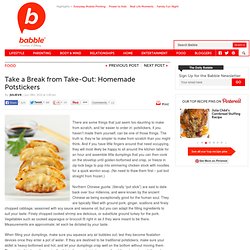 Pot Stickers