Wordpress
Advertisement
Better Image Management With WordPress - Smashing Magazine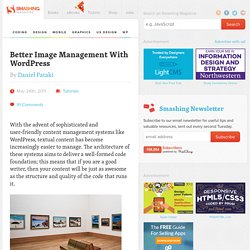 WordPress has a nice media uploader dialog that it uses on the editor pages. Now wouldn't it be nice if you could use it to handle image uploads for part of a plugin or theme you're writing?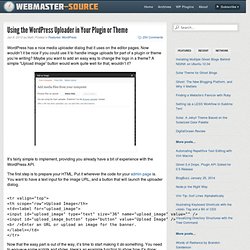 Using the WordPress Uploader in Your Plugin or Theme
Free Simple Email Service Plugin for WordPress | WP SES
The WordPress Mobile Pack is a complete toolkit to help mobilize your WordPress site and blog. It includes a mobile switcher to select themes based on the type of user that is visiting the site, a selection of mobile themes, extra widgets, device adaptation and a mobile administration panel to allow users to edit the site or write new posts when out and about. The pack has been tested on WordPress 2.5.1, 2.6.5, 2.7.1, 2.8.6, 2.9.2, and 3.0. It has been tested on WordPress MU 2.6 in the 'plugins', rather than 'mu_plugins', mode. PHP 5.x is also highly recommended, although the plugin also works with PHP 4.3. Features include: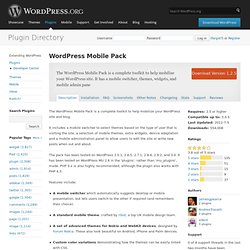 WordPress Mobile Pack
AutoBlogged™ WordPress Autoblog Plugin « WordPress AutoBlog Plugin AutoBlogged™ WordPress Autoblog Plugin
Soumettre des articles, Trouver des articles, Annuaire de recherche d'articles - Articlonet.fr
J'ai récemment eu besoin d'afficher de manière élégante les pièces jointes à des articles et des pages.
Shortcode WordPress : afficher les documents liés aux billets – Attachments shortcode – piouPiouM's dev