Wordpress
Why You Should Get Excited About Emotional Branding Globalization, low-cost technologies and saturated markets are making products and services interchangeable and barely distinguishable. As a result, today's brands must go beyond face value and tap into consumers' deepest subconscious emotions to win the marketplace. In recent decades, the economic base has shifted from production to consumption, from needs to wants, from objective to subjective. We're moving away from the functional and technical characteristics of the industrial era, into a time when consumers are making buying decisions based on how they feel about a company and its offer.
Better Image Management With WordPress - Smashing Magazine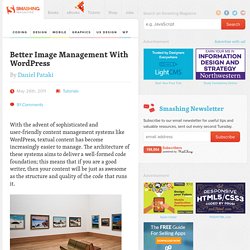 WordPress has a nice media uploader dialog that it uses on the editor pages. Now wouldn't it be nice if you could use it to handle image uploads for part of a plugin or theme you're writing? Maybe you want to add an easy way to change the logo in a theme? A simple "Upload Image" button would work quite well for that, wouldn't it? It's fairly simple to implement, providing you already have a bit of experience with the WordPress API. The first step is to prepare your HTML.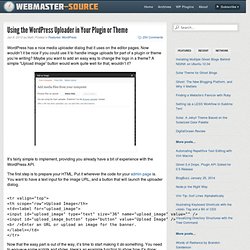 Using the WordPress Uploader in Your Plugin or Theme
Free Simple Email Service Plugin for WordPress | WP SES
The WordPress Mobile Pack is a complete toolkit to help mobilize your WordPress site and blog. It includes a mobile switcher to select themes based on the type of user that is visiting the site, a selection of mobile themes, extra widgets, device adaptation and a mobile administration panel to allow users to edit the site or write new posts when out and about. The pack has been tested on WordPress 2.5.1, 2.6.5, 2.7.1, 2.8.6, 2.9.2, and 3.0. It has been tested on WordPress MU 2.6 in the 'plugins', rather than 'mu_plugins', mode. PHP 5.x is also highly recommended, although the plugin also works with PHP 4.3. Features include: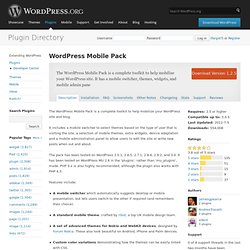 WordPress Mobile Pack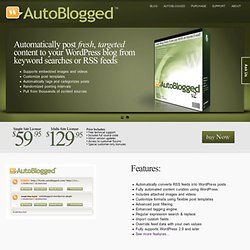 Automatically converts RSS feeds into WordPress postsFully automated content curation using WordPressIncludes attached images and videosCustomize formats using flexible post templatesAdvanced post filteringEnhanced tagging engineRegular expression search & replaceImport custom fieldsOverride feed data with your own valuesFully supports WordPress 2.9 and laterSee more features… AutoBlogged™ automatically creates fresh targeted content for your blog by importing articles from RSS feeds or search keywords. You can use AutoBlogged™ to supplement your own content or build a fully automated blog for keyword targeting, affiliate marketing, aggregating content, or as an alternative to domain parking. AutoBlogged™ will continuously take each item in the feeds or keyword searches you specify, create a short excerpt, link and give credit to the original article, then add that as a WordPress post.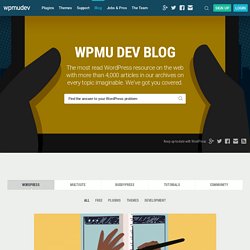 Every now and then, a story pops up about a WordPress website being compromised. The reasons for such security issues can be many — ranging from a flawed plugin to an outdated version of WordPress or a Pharma attack. All said and done, if you are running a WordPress website, it becomes your task to ensure that your site is in good health and safe from malicious hackers. However, when it comes to security with WordPress, there are many steps that you need to take, and still many things that need to be kept in mind.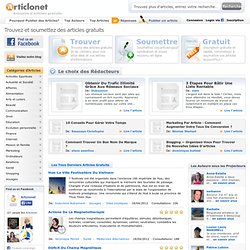 Soumettre des articles, Trouver des articles, Annuaire de recherche d'articles - Articlonet.fr
7 festivals ont été organisés dans l'ancienne cité impériale de Hue; des rencontres culturelles qui marquent la mémoire des touristes de passage. Chargée d'une richesse d'histoire et de patrimoine, Hue est en train de confirmer sa renommée à l'international par le biais de l'organisation de festivals prestigieux. Une renommée qui s'étend de Hué à toute sa province de Thua Thien Hue.
J'ai récemment eu besoin d'afficher de manière élégante les pièces jointes à des articles et des pages. Seulement, avec un WordPress qui autorise l'ajout de documents autres que des images/vidéos et rien pour les insérer proprement dans un contenu, la tâche est loin d'être aisée. Un coup de XHTML et roule ma poule ! Oui !
Shortcode WordPress : afficher les documents liés aux billets – Attachments shortcode – piouPiouM's dev