PRESSE
M.
Alessia Marcuzzi . Official Website . home. Alessia Marcuzzi The official web page Un look comodo… a prova di Claudia!!!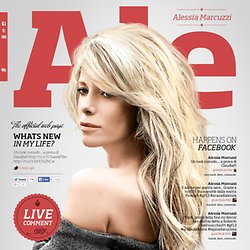 Manufacture d'Essai. Armin Morbach / Hair & Make up Artist, Photographer, Publisher. SPUNK v2 : Alan Leong - ShareNation. SAVE THE WORLD or NOT. Stop motion with wolf and pig. Pedro-vidotto9. Le top 20 des agences interactives françaises | Choblab - web 2.0, design, e-marketing, outils... Un choix en partie subjectif des meilleures web agencies en France.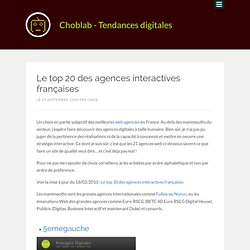 Au delà des mammouths du secteur, j'espère faire découvrir des agences digitales à taille humaine. Bien sûr, je n'ai pas pu juger de la pertinence des réalisations ni de la capacité à concevoir et mettre en oeuvre une stratégie interactive. Ce dont je suis sûr, c'est que les 21 agences web ci-dessous savent ce que faire un site de qualité veut dire… et c'est déjà pas mal ! Tv | galerie | Étienne Mineur | Aperçu des sites Issey Miyake. Petits luxes après-soleil. BREED Magazine - Vol se7en. Lanvin et Acne Jeans, News Mode. 5 : AMUSEMENT.
SPUNK v2 : Alan Leong - ShareNation. 12 Print Magazines for Web and Graphic Designers. There's obviously no shortage of content online for web designers, but the offline content is frequently overlooked.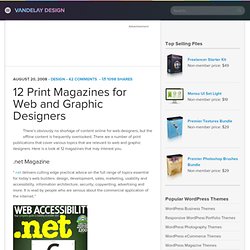 There are a number of print publications that cover various topics that are relevant to web and graphic designers. Here is a look at 12 magazines that may interest you. .net Magazine ".net delivers cutting edge practical advice on the full range of topics essential for today's web builders: design, development, sales, marketing, usability and accessibility, information architecture, security, copywriting, advertising and more. It is read by people who are serious about the commercial application of the internet." Bloom11. Escapades parisiennes - Shopping Paris - Soldes Paris. Bloom12.
---