PRESSE
M
Alessia Marcuzzi The official web page Un look comodo… a prova di Claudia!!!
Alessia Marcuzzi . Official Website . home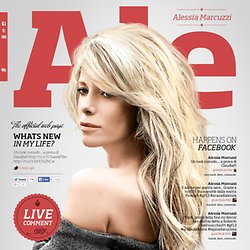 Armin Morbach / Hair & Make up Artist, Photographer, Publisher
SPUNK v2 : Alan Leong - ShareNation
SAVE THE WORLD or NOT
pedro-vidotto9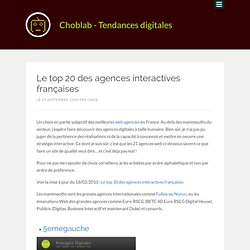 Un choix en partie subjectif des meilleures web agencies en France. Au delà des mammouths du secteur, j'espère faire découvrir des agences digitales à taille humaine. Bien sûr, je n'ai pas pu juger de la pertinence des réalisations ni de la capacité à concevoir et mettre en oeuvre une stratégie interactive. Ce dont je suis sûr, c'est que les 21 agences web ci-dessous savent ce que faire un site de qualité veut dire… et c'est déjà pas mal !
Le top 20 des agences interactives françaises | Choblab - web 2.0, design, e-marketing, outils...
Design graphique, design interactif, animation, visualisation de données, installations, art numérique, laboratoires de nouveaux médias... La création numérique c'est la rencontre de la création visuelle, audiovisuelle et de l'ordinateur. Ce dernier n'est pas seulement l'outil principal de conception, c'est surtout le matériau. Son évolution permanente et le rythme d'innovation qu'il impose en fait aussi une part du sujet…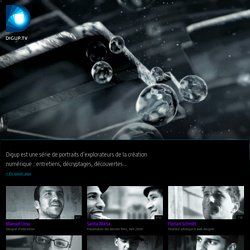 BREED Magazine - Vol se7en
Lanvin et Acne Jeans, News Mode
Now / Art & Design, Tech By AMUSEMENT [DIGITALLY-INSPIRED] Take the time to watch the video and to appreciate the beauty of the landscapes created by the laser projections before racking your brain a bit to understand the technology at work behind it. Now / Art & Design By AMUSEMENT [MUST-HAVE] Every season, "Le Monde d'Hermès" celebrates the venerable house in a playful and elegant way.
SPUNK v2 : Alan Leong - ShareNation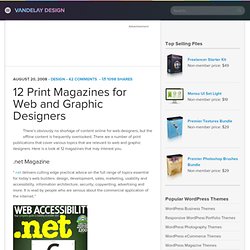 There's obviously no shortage of content online for web designers, but the offline content is frequently overlooked. There are a number of print publications that cover various topics that are relevant to web and graphic designers. Here is a look at 12 magazines that may interest you. .net Magazine ".net delivers cutting edge practical advice on the full range of topics essential for today's web builders: design, development, sales, marketing, usability and accessibility, information architecture, security, copywriting, advertising and more. It is read by people who are serious about the commercial application of the internet."
12 Print Magazines for Web and Graphic Designers
Bloom11
Escapades parisiennes - Shopping Paris - Soldes Paris
Bloom12