Lecture
Agency | 100 Best Flash Websites
Operating system market share
157 millions de visiteurs uniques. C'est ce que YouTube reçoit mensuellement. Et alors ?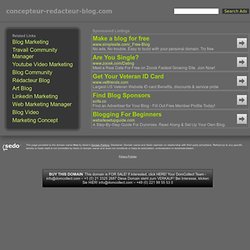 The Most Creative Flash Preloaders of All Times | Flash Scope Bl
Emigre magazine was published a total of 69 times, usually irregularly, over the years between 1984 and 2005. One of the first publications to use Macintosh computers, Emigre influenced the move towards desktop publishing within the graphic design community. But that was not the end of its influence. Art directors Rudy Vanderlands and Zuzana Licko entranced designers, photographers and typographers alike with their use of use of experimental layouts and opinionated articles. The focus of the magazine moved from culture to designers to design itself, with an increasing focus on the publication and promotion of varied articles on design by many different authors. The magazine also changed formats several times during its career switching from an oversized publication to a text-friendly reader and then to a multimedia format, from issue 60 to 65, which came with a CD or DVD.
Emigre : Design Is History
WebAgency: mort imminente?
Cela fait maintenant quelques semaines que je tâte si je dois publier ou non cet article… et puis je me suis dit "Il faut bien que quelqu'un ouvre sa gueule!". Aujourd'hui pour un client standard, si vous avez un besoin Web vous avez plusieurs solutions: 1. Faire appel à une agence 2. Recruter une équipe et internaliser 3. Faire appel à un prestataire technique 4.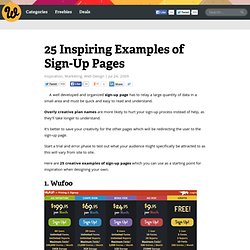 A well developed and organized sign-up page has to relay a large quantity of data in a small area and must be quick and easy to read and understand. Overly creative plan name s are more likely to hurt your sign-up process instead of help, as they'll take longer to understand. It's better to save your creativity for the other pages which will be redirecting the user to the sign-up page. Start a trial and error phase to test out what your audience might specifically be attracted to as this will vary from site to site. Here are 25 creative examples of sign-up pages which you can use as a starting point for inspiration when designing your own.