Illustrations
Angéline Mélin
MITICA ILLUSTRATIONS
Pétula Poussin
Sleeping Tale
ByGlam: "La Mode, La Mode....Et puis quoi encore?!"
Book::narcisse
Magda Antoniuk
trends up
stivo
Dan Stafford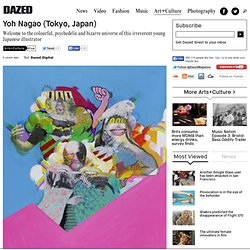 Yoh Nagao (Nagoya, Japan)
The work of Yoh Nagao is so irreverent and skewed that we just had to get some of it up on Dazed Digital after he paid a visit to Dazed Towers with his portofolio. In between regaling us with a twisted tale of an ex-tutor's love for his cat, we discovered that he had made quite a name for himself in Europe already and was hoping to head for the Big Apple next.
Valerie Oualid : Agent de ressources créatives | Kristof Luyckx
Mozilla Firefox
Iri5