* RingTones
Overview Environment scores are assigned to cell phones by combining product-level environmental indicators (weighted at 50%) with company-level environmental indicators (weighted at 50%). The product-level environmental assessment is based on indicators of Energy management, as measured by a phone's standby power consumption; Materials management, specifically the use of eco-materials in a phone or its packaging; Toxic waste, specifically inclusion of polyvinyl chloride or brominated flame retardants in a phone; Product management, as measured by third-party certification standards; and Environmental disclosure, as measured by the availability of an environmental fact sheet for a product. The company-level environmental assessment is based on GoodGuide's standard indicators for rating companies, enhanced with two additional indicators that capture issues that are specific to the electronics industry, covering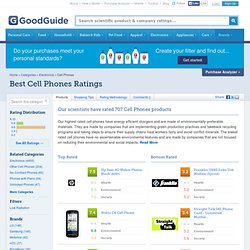 Cell Phones Ratings & Reviews | Best & Worst Products
Free mobile downloads - mobile games mobile software mobile themes ...
Progress in mobile technologies has inevitably entailed the emergence and diffusion of a dedicated content. The diversity of games, videos, themes and software for cellular phones, in its turn, has generated the problem of choice. And there is small wonder in this fact, since nowadays there are a lot of online services offering paid of free content. Thus, the necessity to choose the appropriate service came in the foreground. Our site offers limitless opportunities of free mobile downloads for all users longing to receive high-end, fresh and engaging content for their gadgets.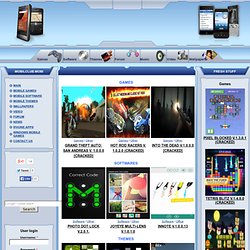 Funny ringtones & Fun Sounds : Fun Sounds, Jamster Sounds
Free Ringtones - Cool! - Download Free Polyphonic and Monophonic ...
Free Mp3 Ringtones,Download Free Mp3 ringtones,Free Themes,Free ...
Free Ringtones, Polyphonic Ringtones, Free Mp3 Ringtones, Real ...
Free Ringtones - Cellfish.com
Cellfish designs and develops innovative mobile and social applications, focused on delivering high-value and engaging experiences to music, sports and entertainment fans. Learn More Through its own storefronts, as well as partnerships with leading operators, media and OEMs, Cellfish has created a robust distribution network that allows millions of fans to easily access and enjoy high-quality content and applications. Learn More MusicRow | April 15, 2014