FreeWare
Mac Free: Utilities. DoubleCommand. Software. Software. Free Video Downloader for Mac-Download YouTube Videos| iSkysoft. iSkysoft Free Video Downloader for Mac lets Mac users 3X faster download any videos from YouTube.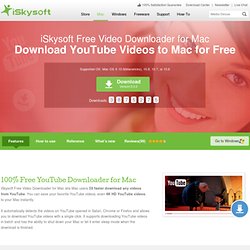 You can save your favorite YouTube videos, even 4K HD YouTube videos, to your Mac instantly. It automatically detects the videos on YouTube opened in Safari, Chrome or Firefox and allows you to download YouTube videos with a single click. It supports downloading YouTube videos in batch and has the ability to shut down your Mac or let it enter sleep mode when the download is finished. G'MIC : GREYC's Magic Image Converter. Mac.AppStorm | Mac Software Reviews, Roundups & How-Tos. Install MAMP to Run Joomla 1.5 On Your Macintosh Computer. To date the current version of MAMP is 1.7.2.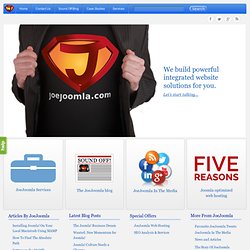 It was published on August 27, 2008. The download is a universal binary dmg file approximately 130 MB in size. Click Here to go and get a copy of MAMP. You are going to need Mac OS X 10.4 (Tiger) or higher to run MAMP. Here is what is in MAMP 1.7.2: Explore: Utilities MacUpdate Software Updates and Downloads for Apple Mac OS X and iPhone. Titanium's Software • Forums. A list of 10 Mac freeware lists | thriftmac | free Mac software, Mac freeware, free Mac games. The Great Mac OS X Freeware List. We here at MacApper love Mac freeware, and try to write about it whenever we can.
If we can find a program that does as good a job as commercial offerings, we will do our best to bring it to your attention. Following along that vein of thought we prepared something we think you guys might find useful. It's a list of the best and most popular freeware for OS X. The list is sorted alphabetically by category and currently has 57 freeware mac apps . CrossOver: Windows Emulator for Mac OS X and Linux. Whether you are new to Mac or an old pro, CrossOver Mac can get your Windows productivity applications and PC games up and running on your Mac quickly and easily.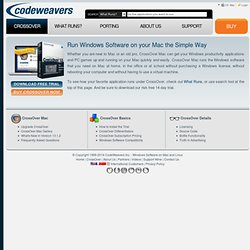 CrossOver Mac runs the Windows software that you need on Mac at home, in the office or at school without purchasing a Windows license, without rebooting your computer and without having to use a virtual machine. To see how your favorite application runs under CrossOver, check out What Runs, or use search tool at the top of this page. And be sure to download our risk free 14 day trial. Fusion: Run Windows on Mac for Desktop Virtualization. Mac OS X Software Downloads, page 2. Open Source Mac - Free, Open-Source software for OS X.
Freemind An innovative application for note taking and outlining.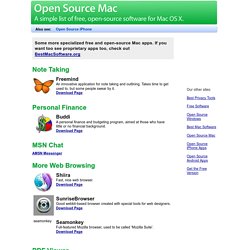 Takes time to get used to, but some people swear by it. Download Page.
---