Open Source
Ubuntu Home Page. OpenOffice.org - The Free and Open Productivity Suite. The GNU Image Manipulation Program. Thunderbird - It's All Yours. Provider for Google Calendar :: Add-ons for Thunderbird. Open Content Alliance (OCA) Quick 'n' Easy LAMP Server For CentOS/RHEL | HowtoForge - Linux. This tutorial shows a quick way of installing a LAMP server (Linux + Apache + MySQL + PHP/Perl together commonly known as LAMP Server.) on CentOS and RHEL server systems.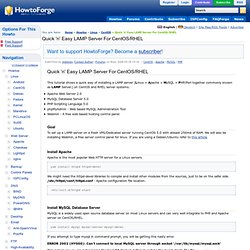 Apache Web Server 2.0 MySQL Database Server 5.0 PHP Scripting Language 5.0 phpMyAdmin - Web based MySQL Administration Tool Webmin - A free web based hosting control panel Goal. Yum command: Update / Install Packages Under Redhat Enterprise / How do I use yum command to update and patch my Red hat Enterprise Linux / CentOS Linux version 5.x server via RHN / Internet?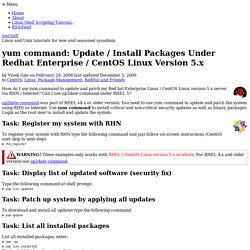 Can I use up2date command under RHEL 5? Up2date command was part of RHEL v4.x or older version. Webmin. Best of Free Joomla Templates. Joomla!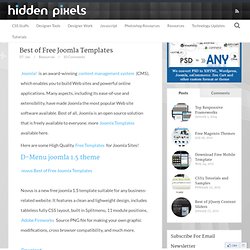 Is an award-winning content management system (CMS), which enables you to build Web sites and powerful online applications. Many aspects, including its ease-of-use and extensibility, have made Joomla the most popular Web site software available. Best of all, Joomla is an open source solution that is freely available to everyone. more Joomla Templates available here. Here are some High Quality Free Templates for Joomla Sites! Open Source Matters.
---