Presentation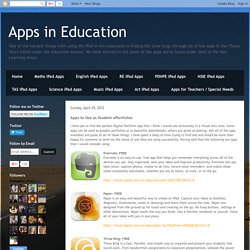 I have yet to find the perfect Digital Portfolio app that I think I would use exclusively in a Visual Arts class. Some apps can be used as graphic portfolios or as beautiful sketchbooks, others are great at sharing. Not all of the apps available are great at all of these things. I have spent a heap of time trying to find one and would be more than happy for someone to send me the name of one they are using successfully.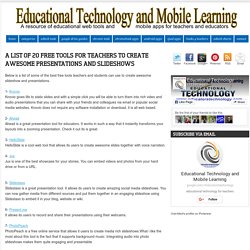 Creating presentations and slideshows is one of the needed skills for both teachers and students. Unfortunately many teachers still find it hard to arrange data into a catchy slideshow to share with students. Below is a list of some of the best free tools teachers and students can use to create awesome slideshow and presentations. I have already reviewed all of these tools and therefore attest to their usability. 1- SlideShare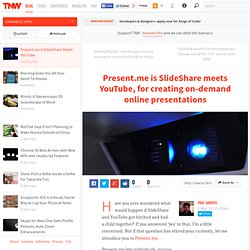 Have you ever wondered what would happen if SlideShare and YouTube got hitched and had a child together? If you answered 'yes' to that, I'm a little concerned. But if that question has stirred your curiosity, let me introduce you to Present.me.
Present.me is SlideShare Meets YouTube