Collaborative Tools
32 Interesting Ways to Use Wallwisher in the Classroom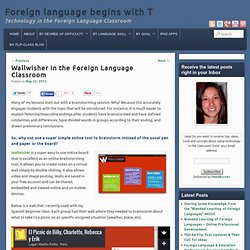 Wallwisher Brainstorm Tool in the Foreign Language Classroom | Foreign language begins with T
Many of my lessons start out with a brainstorming session. Why?
Yesterday, I received an email from a reader who was looking for a free tool that she and her students could use to collaboratively annotate PDFs. While you can comment on PDFs in Google Drive, you can't yet anchor those comments to a specific part of a PDF (at least I haven't figured out how to do that yet). The tool that I recommended instead is Crocodoc. Crocodoc is a simple service that allows users to quickly share and edit PDFs, Word documents, and PowerPoint files.To use Crocodoc just upload your file, select your marking tool, and get to work.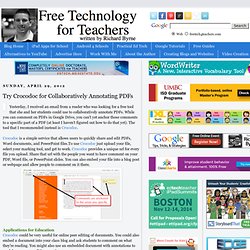 Try Crocodoc for Collaboratively Annotating PDFs
The Best Tech for Communicative Projects | | Calico SpanishCalico Spanish
Welcome back to #langchat, everyone! We hope you were able to join us for our Thursday night chat on communicative projects that also help students acquire tech skills, but if you were unable to, we've included a summary of the night's discussion below.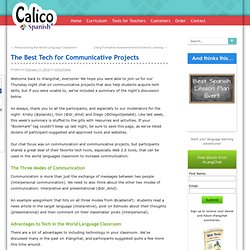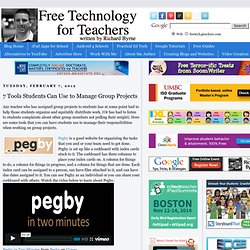 Any teacher who has assigned group projects to students has at some point had to help those students organize and equitably distribute work.
ICT4MFL Daily
In some of my side projects I occasionally find myself needing to share files that are larger than my email service or my recipient's email service can handle. In the past I would use Drop.io or File Dropper to share those large files. This afternoon I learned about a new file sharing service called Let's Crate that I'll try in the future. Let's Crate is very easy to use. To use Let's Crate just drag a file from your desktop to the Let's Crate page.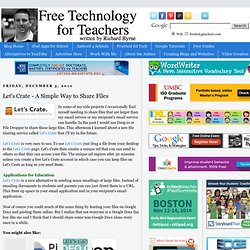 Sharing Files
Last week the Wall Street Journal had an article announcing that Edmodo had received a $15 million venture capital investment from the founder of LinkedIn and a former VP of Facebook. That article gave me the idea for this post of fifteen things teachers and students can do with Edmodo. For those not familiar with Edmodo, in a nutshell it is a microblogging system designed specifically for teachers and students. Using Edmodo teachers can create a microblogging network for their classes. Edmodo allows teachers to create a group specifically for their students and exclude those not invited to the group.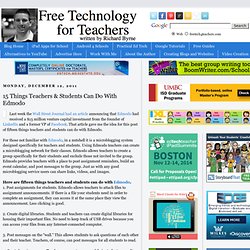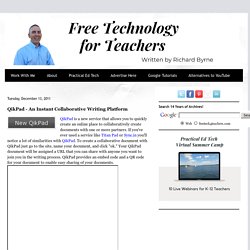 QikPad is a new service that allows you to quickly create an online place to collaboratively create documents with one or more partners. If you've ever used a service like Titan Pad or Sync.in you'll notice a lot of similarities with QikPad. To create a collaborative document with QikPad just go to the site, name your document, and click "ok." Your QikPad document will be assigned a URL that you can share with anyone you want to join you in the writing process.
collaborative writing